With the increasing popularity of online shopping, eCommerce website development has become a critical aspect of a commercial business strategy. 
Building a robust eCommerce website catering to your target audience will provide customers with a seamless and convenient shopping experience, leading to higher sales and revenue. 
Apart from flawless functionality and an appealing, user-friendly interface, you may want your eCommerce platform to include various payment methods and possibilities to manage inventory and set up taxes and shipping. 
To develop the online store of your dream, with high performance and advanced features, the best decision is to hire an experienced software development agency. Choosing among thousands might be an arduous task; therefore, we've created a list of the top eCommerce website development companies that can deliver a customized shopping platform matching your business needs and expectations perfectly. 
The Best eCommerce Web Development Companies To Build Your Dream Online Store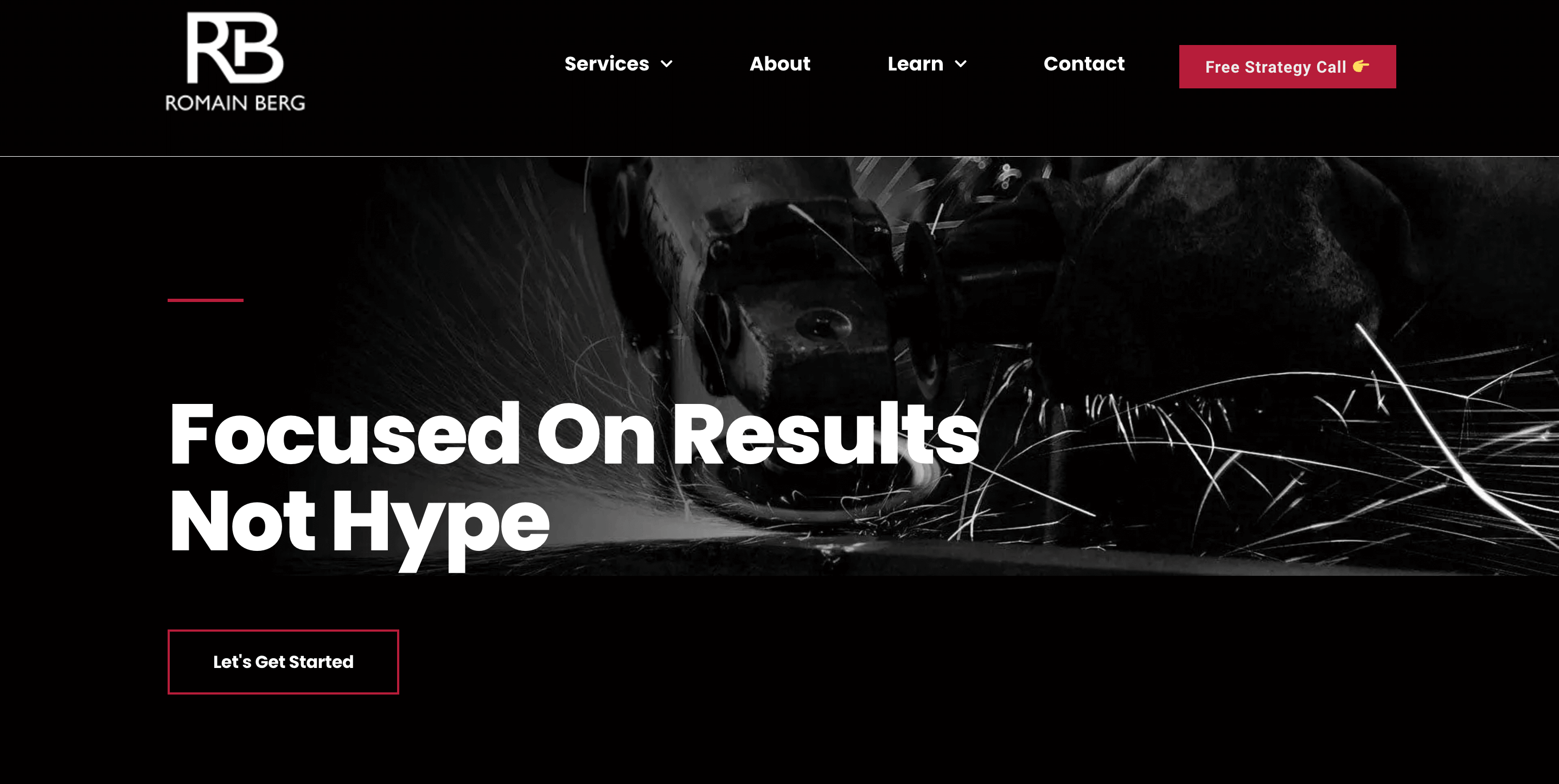 Romain Berg is the top eCommerce development company for businesses seeking a unique and results-driven approach to digital marketing and web design. Having an international team, the company is based in Minneapolis and serves customers worldwide. Since 2015, their top-notch marketing experts and eCommerce developers have provided full-service digital solutions, applying the best industry practices and latest technologies to deliver explosive growth for clients. 
Romain Berg's approach is tailored to meet the most painful challenges of eCommerce businesses. From designing high-performance and appealing online stores to promoting them with the help of content marketing, social media, PPC, and SEO strategies, they form a solid marketing plan to help their clients succeed online. The team works closely with each customer to understand their unique business goals and define the most relevant scope of eCommerce services to achieve those objectives. They provide transparent reporting and regular progress updates so you can track the results of their efforts.
With rich industry expertise, well-established processes, and proven marketing strategies combined with a sincere desire to help you, Romain Berg can take your eCommerce site to an unseen level of success and skyrocket your sales.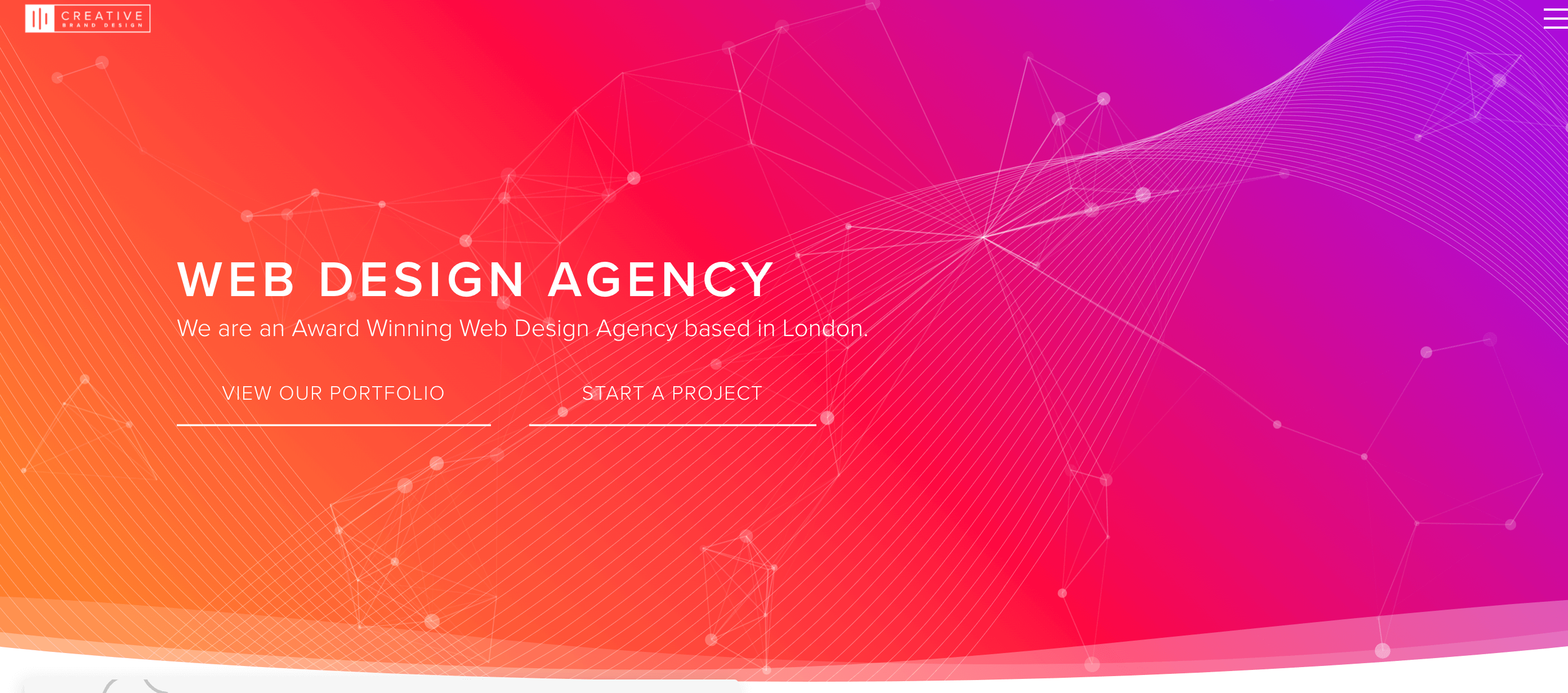 Creative Brand Design is an award-winning website design agency based in the UK that develops and designs next-gen branded websites and online stores. The firm was founded in 2007 and got an extensive experience in building scalable eCommerce platforms.
The team at Creative Brand Design specializes in creating custom eCommerce web designs of any complexity. They believe that growing businesses require complex, innovative solutions beyond a simple shopping cart experience. Thus, their delivered sites are completely bespoke and work in sync with your business model, be it drop shipping, manufacturing, wholesale, or any other type.
Apart from creating outstanding design concepts, this creative agency covers your site's SEO, reports and analysis, enterprise security, flexible shipping models, content management system, and powerful searching features. 
So, are you dreaming about launching an industry-leading shopping website on WooCommerce and Magento? Choose Creative Brand Design as your go-to eCommerce development partner and get a competitive advantage and effective ROIs!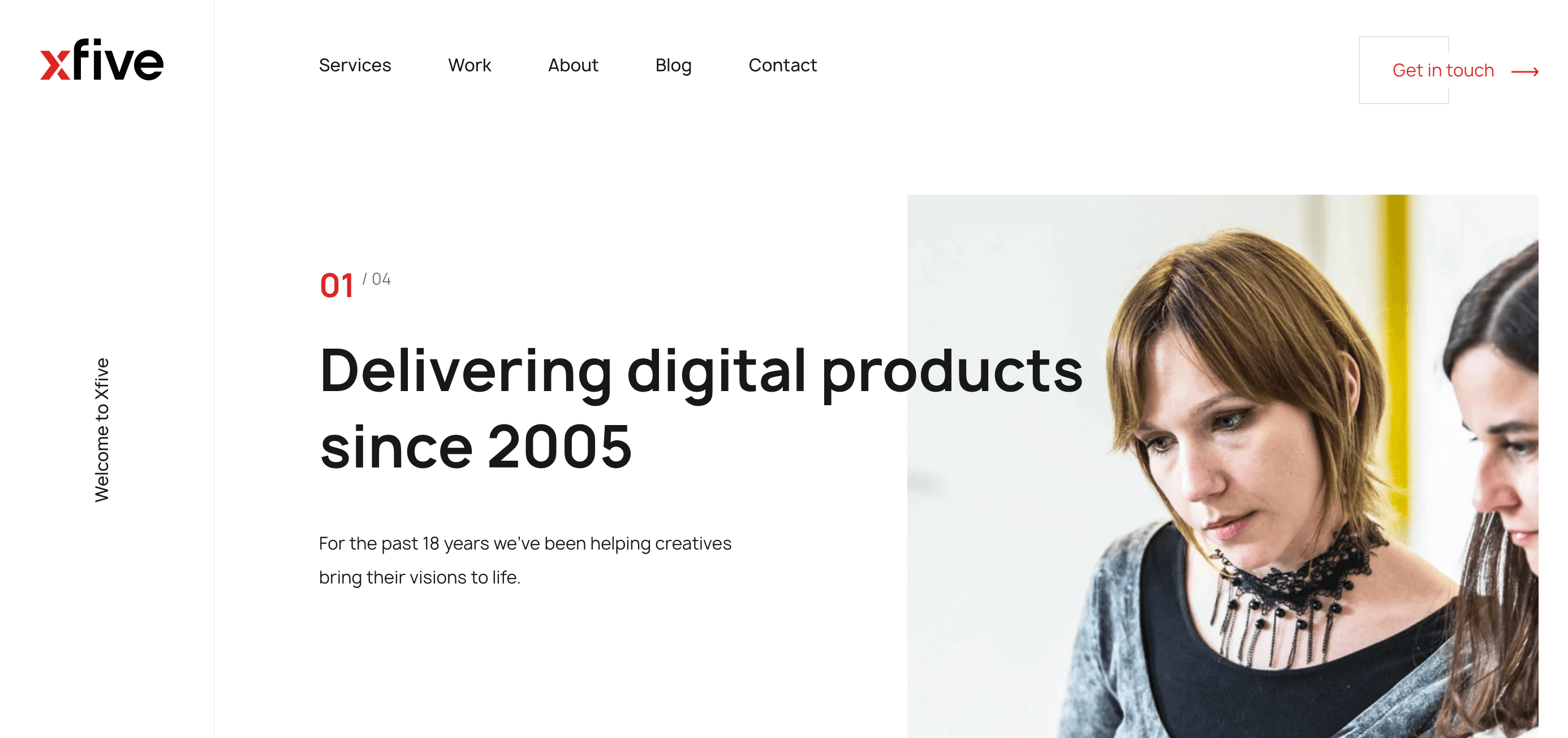 Xfive is one of the best eCommerce web development companies from Poland, with offices in Melbourne and San Francisco. They've been delivering innovative digital products for startups and established businesses since 2005, helping creatives bring their visions to life.
The company is a winner of the Clutch Awards 2022 in the eCommerce development and web development categories. Their top-level WooCommerce, BigCommerce, and Shopify experts can help you overcome any business challenge, assisting you at every stage of product development and providing fast-loading stores.
Boasting numerous quality certificates and a great pool of talented eCommerce programmers, Xfive demonstrates a high level of expertise in the tech field. Contact them today to build your online store guided by one of the most experienced web development firms in the market.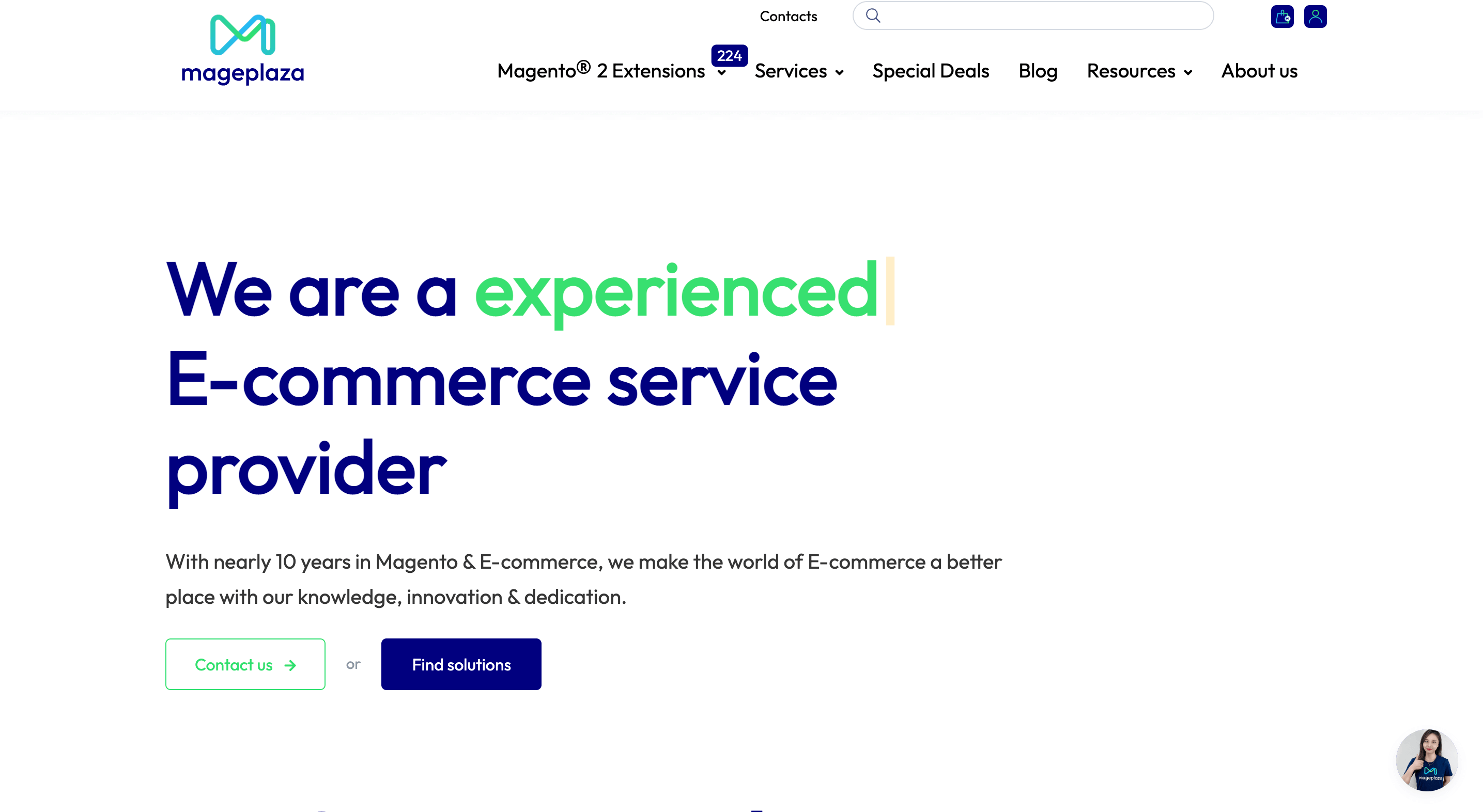 Mageplaza has established itself as a leading provider of innovative eCommerce solutions and services. With a team of highly skilled developers and designers, they have successfully delivered exceptional eCommerce websites for a diverse range of clients.
What sets Mageplaza apart is its deep understanding of the eCommerce landscape and its ability to tailor solutions to meet specific business needs. Whether you're starting a new online store or looking to enhance your existing eCommerce platform, Mageplaza offers a comprehensive suite of tools and extensions to optimize your website's functionality and user experience.
Their expertise spans across various eCommerce platforms, with a strong focus on Magento and Shopify platforms. They provide innovative solutions and services to help businesses thrive in the online marketplace.
Whether you are looking to launch a new eCommerce store or enhance an existing one, Mageplaza is a trusted partner that can help you achieve your goals. With their expertise in Magento and Shopify development, they have earned their place among the top eCommerce website development companies.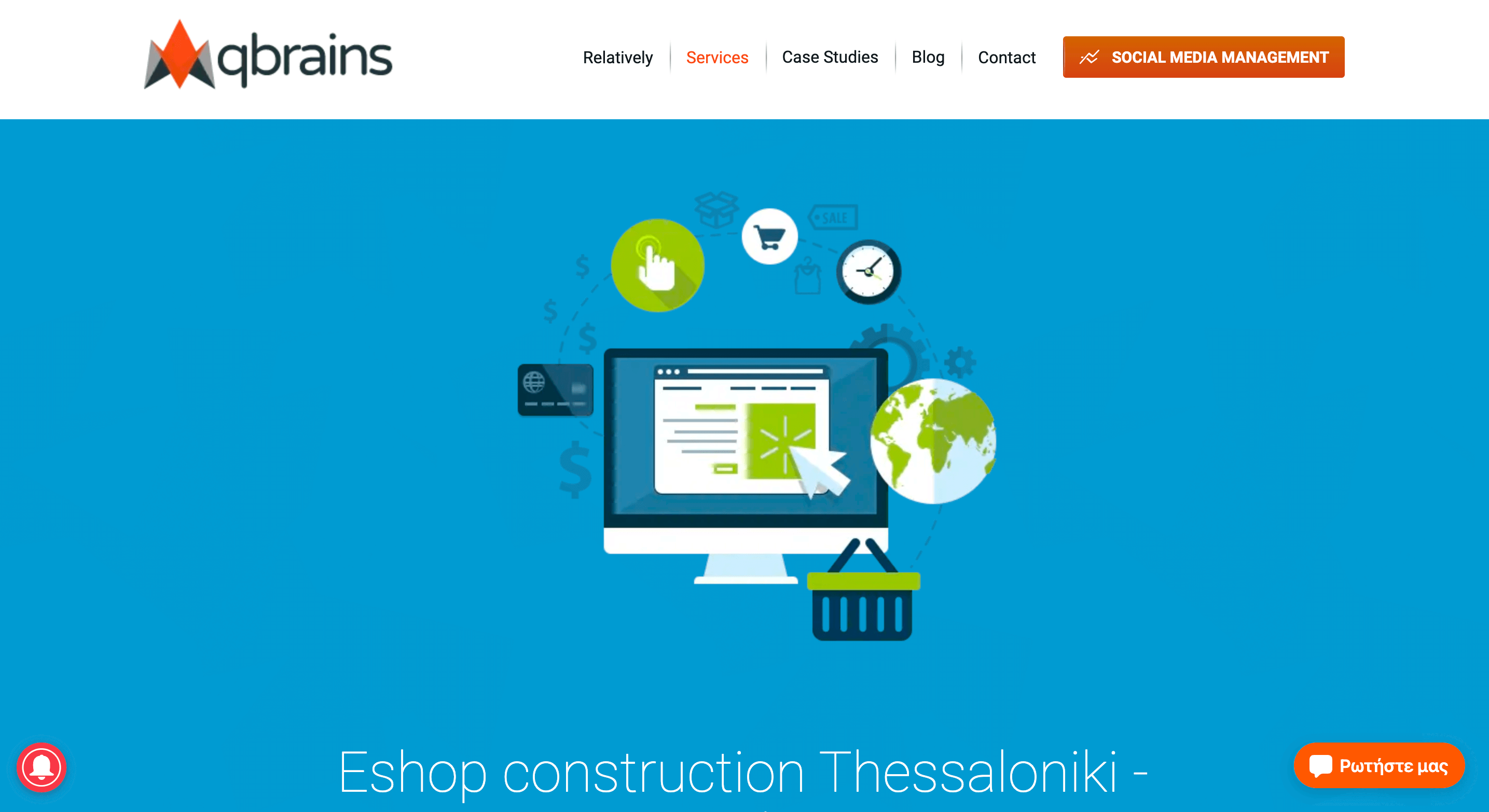 Qbrains is a prominent eCommerce development company located in Greece with over two decades of experience. Their ingenious team of 10 professionals designs and constructs high-performing online stores, connects them with CRM and ERP back office systems and implements the latest digital marketing trends and techniques.
The agency has extensive expertise in the development using the most popular eCommerce platforms such as WooCommerce, Magento, and their own SmartSite CMS, providing customized e-shop solutions that meet the needs of businesses in Greece and abroad.
Focusing on website usability, speed, and accessibility, Qbrains offers speed-of-light eCommerce development services for businesses of all sizes and industries. With a track record of 1200+ successful marketing campaigns, 980 email marketing strategies, 3680 keywords ranking on the first Google page, and an impressive portfolio of 260 websites and 98 special closed-source applications, Qbrains is the perfect partner to trust with your online store development and promotion.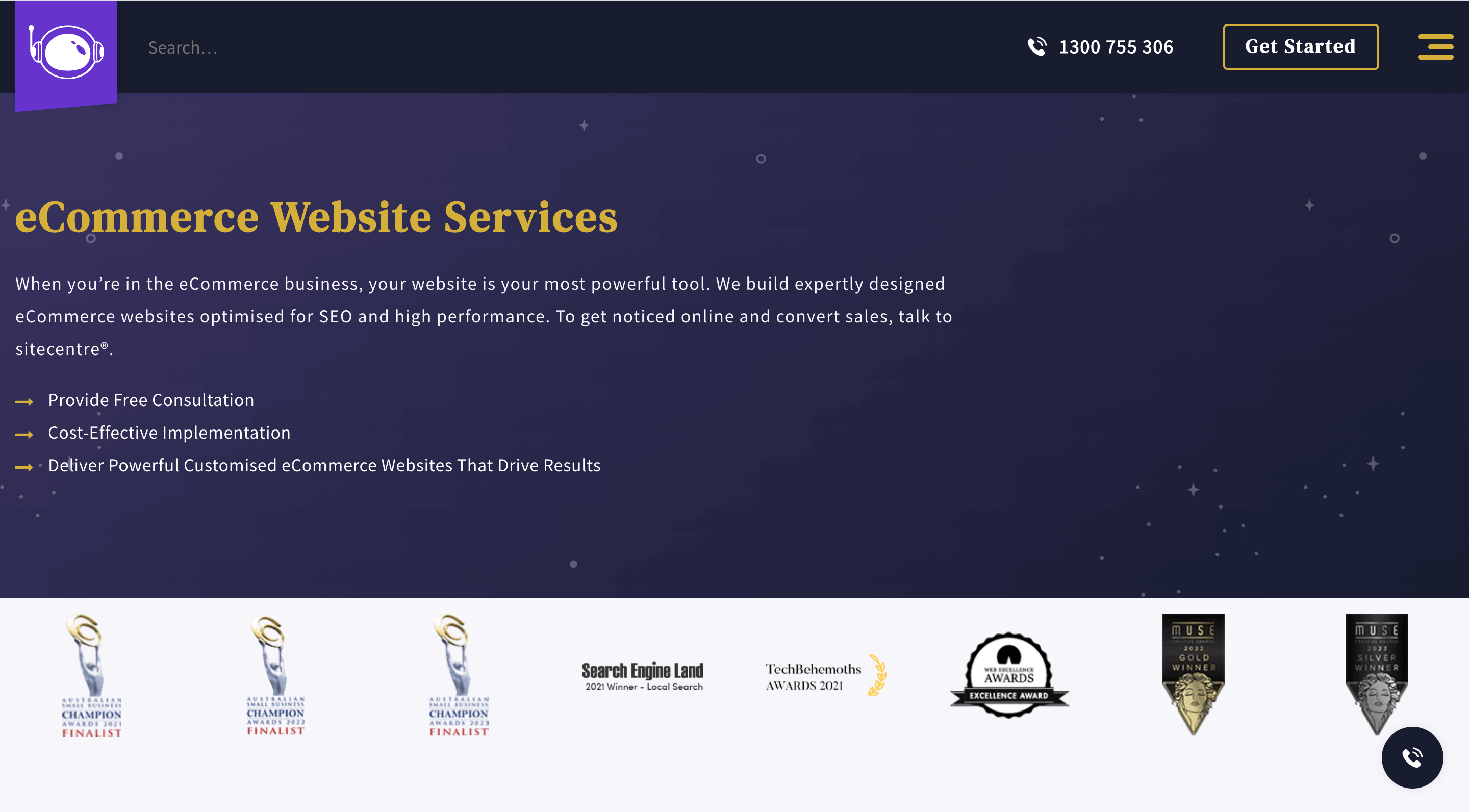 sitecentre is a leading full-service digital agency founded in 2014 in Australia, delivering comprehensive web design services for eCommerce as well as further promotion via SEO, PPC, and social media marketing. The company is committed to helping local, small, and medium-sized businesses grow rapidly and offers the best value-for-money solutions.
Serving various industries and business profiles, sitecentre builds powerful customized eCommerce websites that drive results. Their award-winning hosted eCommerce platform has an average uptime of over 99.99%, ensuring businesses offer a seamless shopping experience without worrying about order management and shipping.
Conducting an in-depth market & competitive analysis and using the latest web development technology and trends, the team ensures you get a future-proof site that stands out and brings in qualified leads. Their websites are designed to outrank competitors, and they analyze and monitor the leading market players to keep their clients ahead of the game.
So if you're looking for a reliable partner to grow your business online, sitecentre is your proven choice. What's more, you can jump on a free consultation before partnering with them.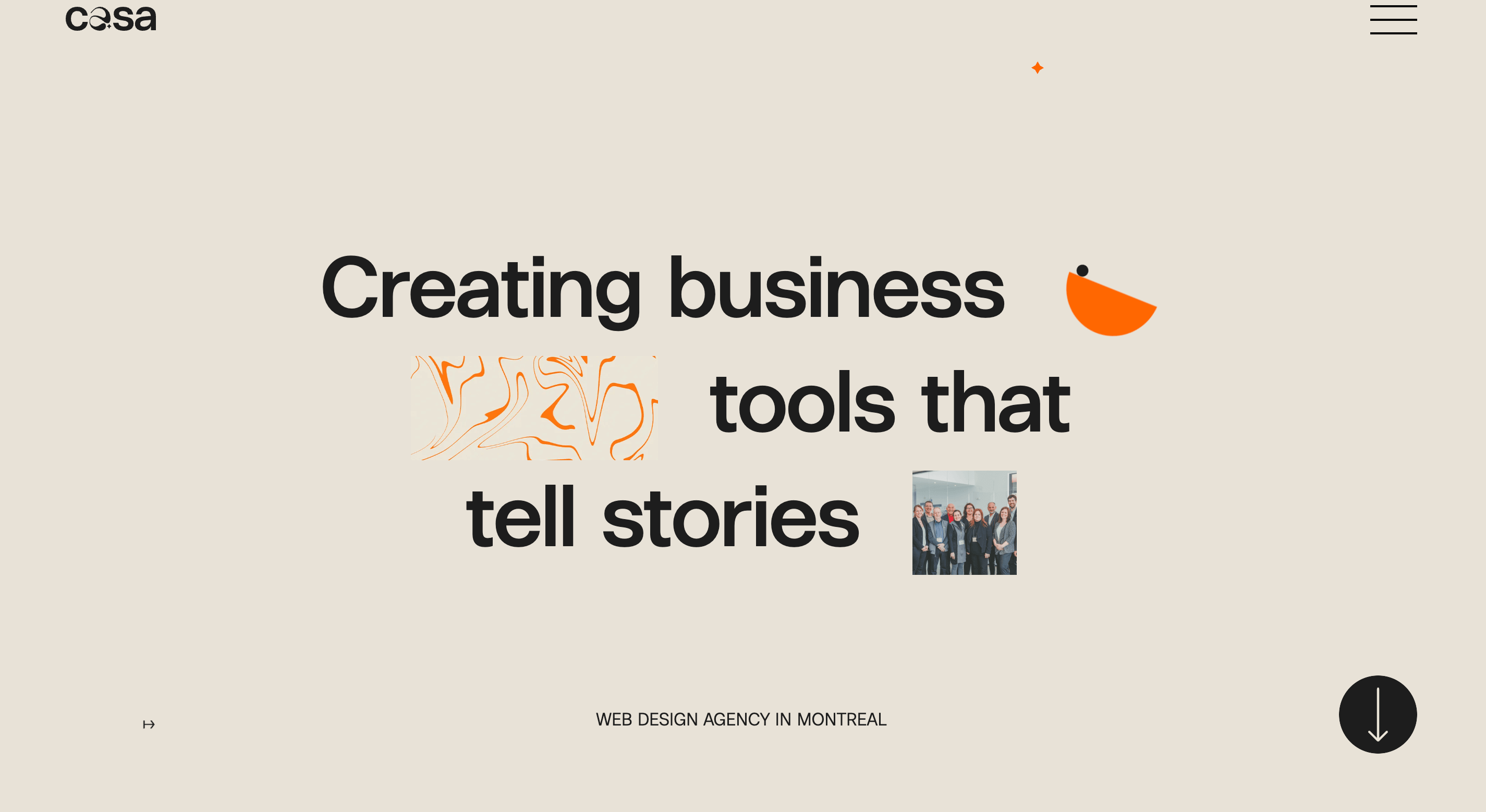 Casa Media is a supreme eCommerce website development company based in Montreal. Offering a wide range of digital services, including full-cycle web design, PPC, social media management, branding, and SEO, the agency is committed to creating customized solutions for each client. 
With a team of passionate and creative eCommerce experts on board, Casa Media works closely with businesses from various industries to define their brand essence, identity, and voice and translate them to the public in the best form possible. The agency has all talents and resources in-house to provide the highest level of service, making it a one-stop shop for all your digital needs.
So, if you're looking for a skilled partner to help your eCommerce brand succeed, Casa Media is here to help you by pushing the boundaries beyond the ordinary and delivering prominent brand evolution. Contact them today to turn your ideas into visual and pragmatic assets that tell your unique brand story to the world.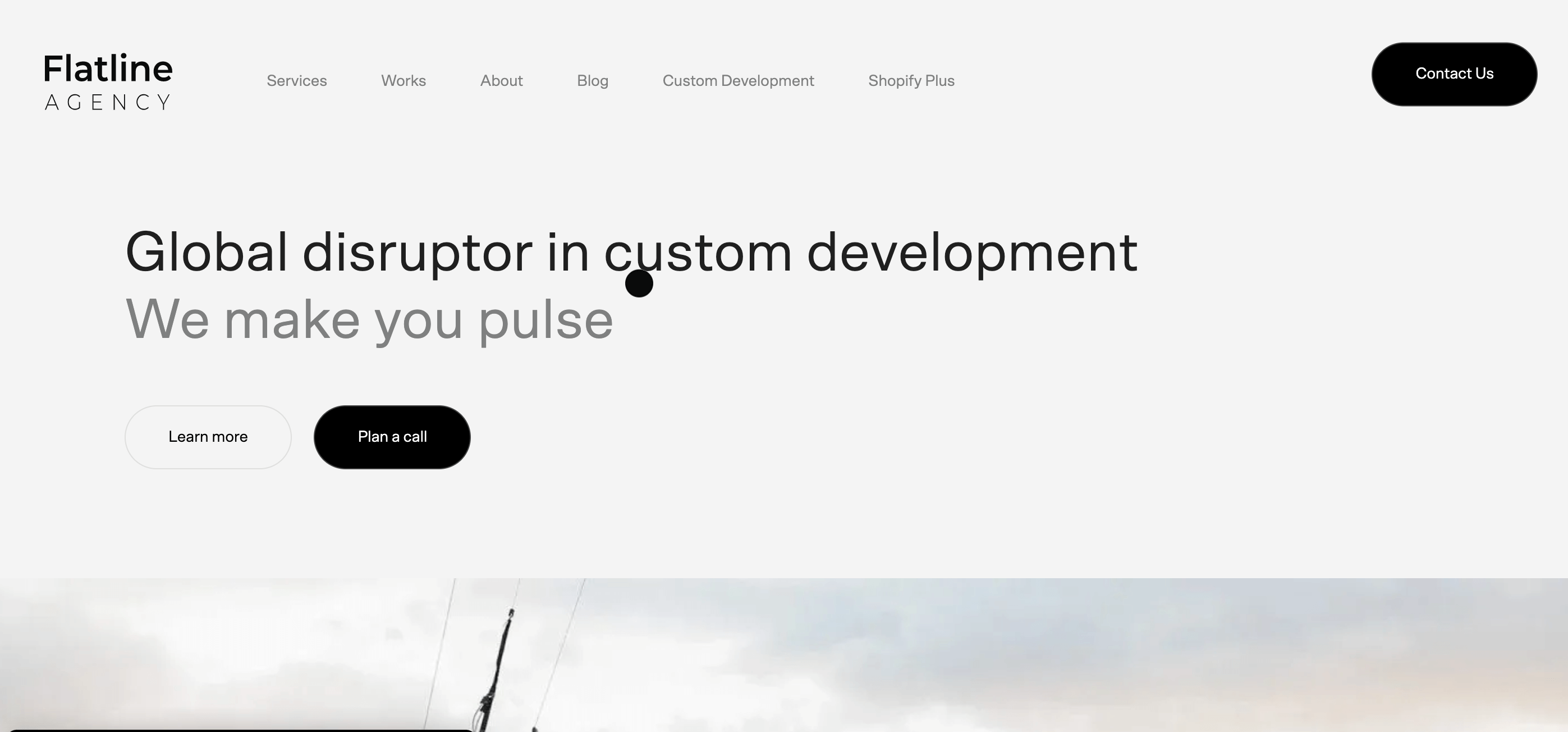 Based in Amsterdam, Flatline Agency is one of the best eCommerce web development companies. Partnering with Shopify and WooCommerce, Flatline Agency is a go-to eCommerce solution partner for big market players like the Dutch Government, Fortune 500 companies, and SMEs. 
Being an experienced service provider for eCommerce, Flatline Agency believes that excellent services include not only building a website but also creating the complete infrastructure for smooth and optimized work. 
Trust your project to the best eCommerce developers who will set up the entire digital architecture for your business, bringing maximum results and providing your end customers with a fantastic shopping experience.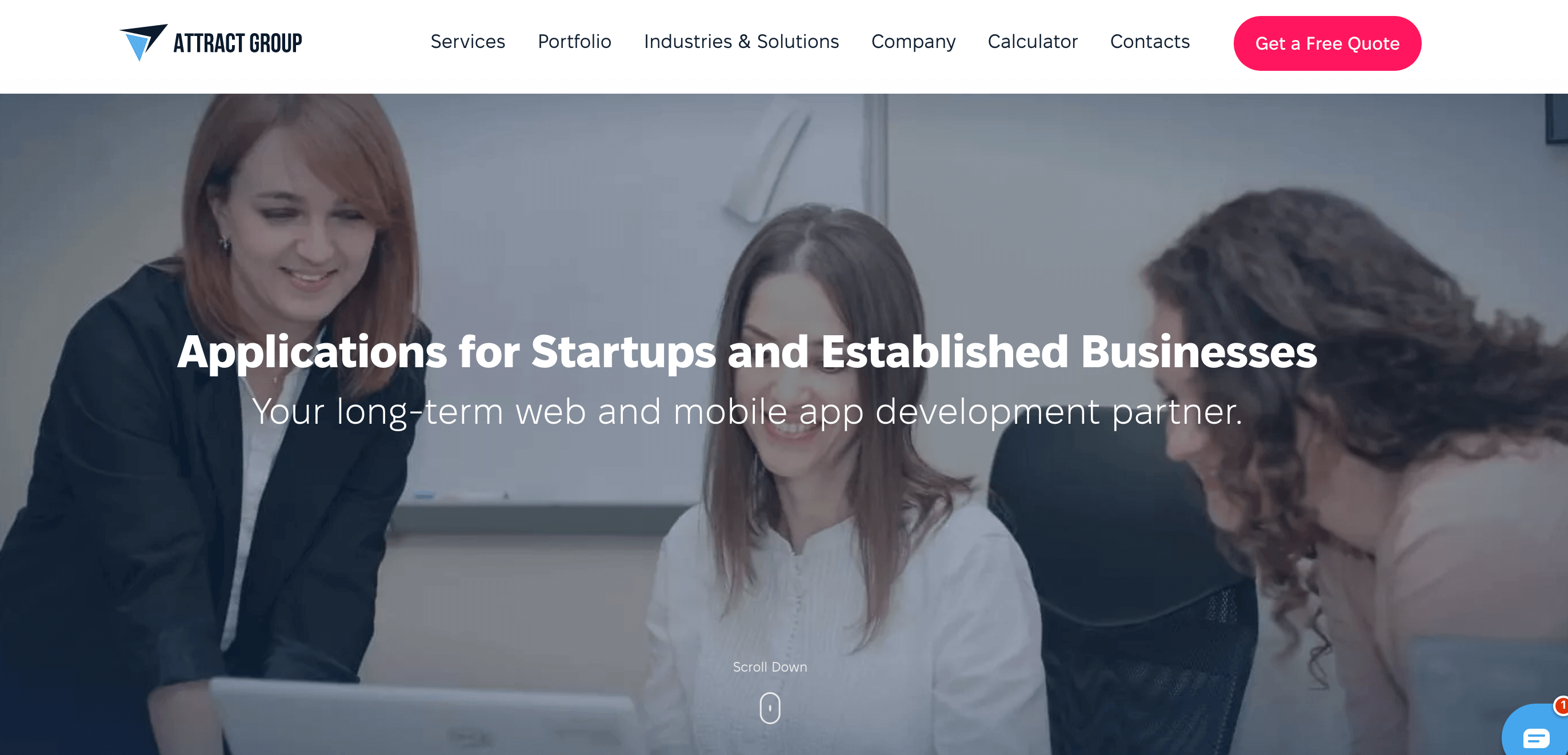 Focusing on Retail and eCommerce, Attract Group is one of the most reliable and proficient agencies for building an eCommerce website. Whatever your pain points are: lack of tech expertise or follow-up support, unclear business objectives, or modest budget – Attract Group will provide you with the best-fit solution to help you stand out. 
The company's development offices are based in Ukraine with headquarters in the Netherlands and the USA. They've been successfully operating worldwide since 2011 and have a lot to offer to enterprises and startups within various industries. 
Attract Group is a team of forward-thinking eCommerce experts constantly striving to innovate the IT market and take clients' businesses to the next level. Kickstart your online store development with assistance from the top eCommerce solution provider!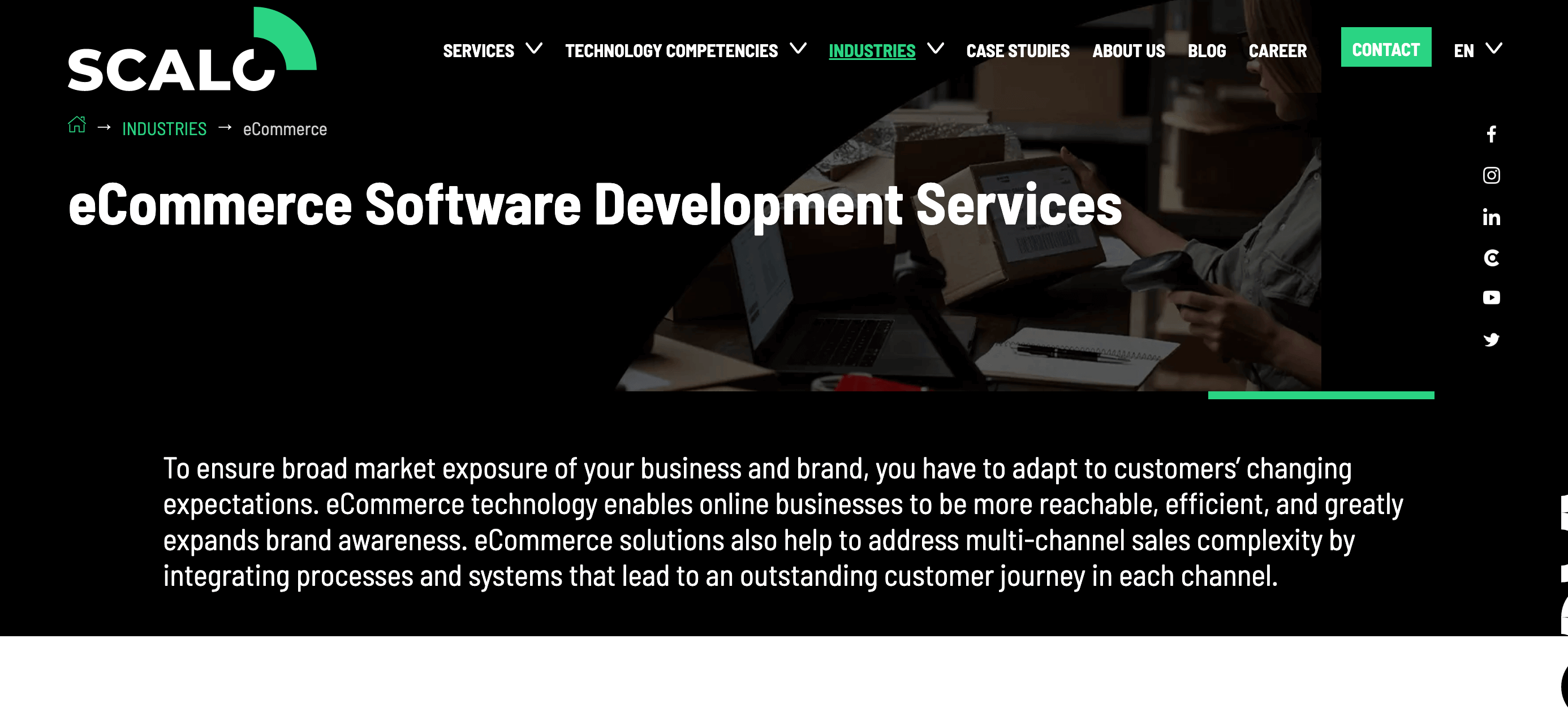 There are many reasons to choose Scalo as your long-term partner for custom eCommerce web development. With 15 years of experience in digital services and 600 developers on board, Scalo has successfully delivered over 750 projects. They're proud of their successful cooperation with notable brands such as Crif, Vodeno, Elsa, Change Donations, Satori Analytics, ING, Santander, Capgemini, Asseco, Onet, Interia, and more. 
Scalo's eCommerce developers will provide you with various tech solutions like custom CRM systems, app and web development, microservices architecture, and cloud-based software as well as payment and data security systems. Let your online business be more efficient and raise your brand awareness with the help of Scalo's best industry practices and multi-channel approaches.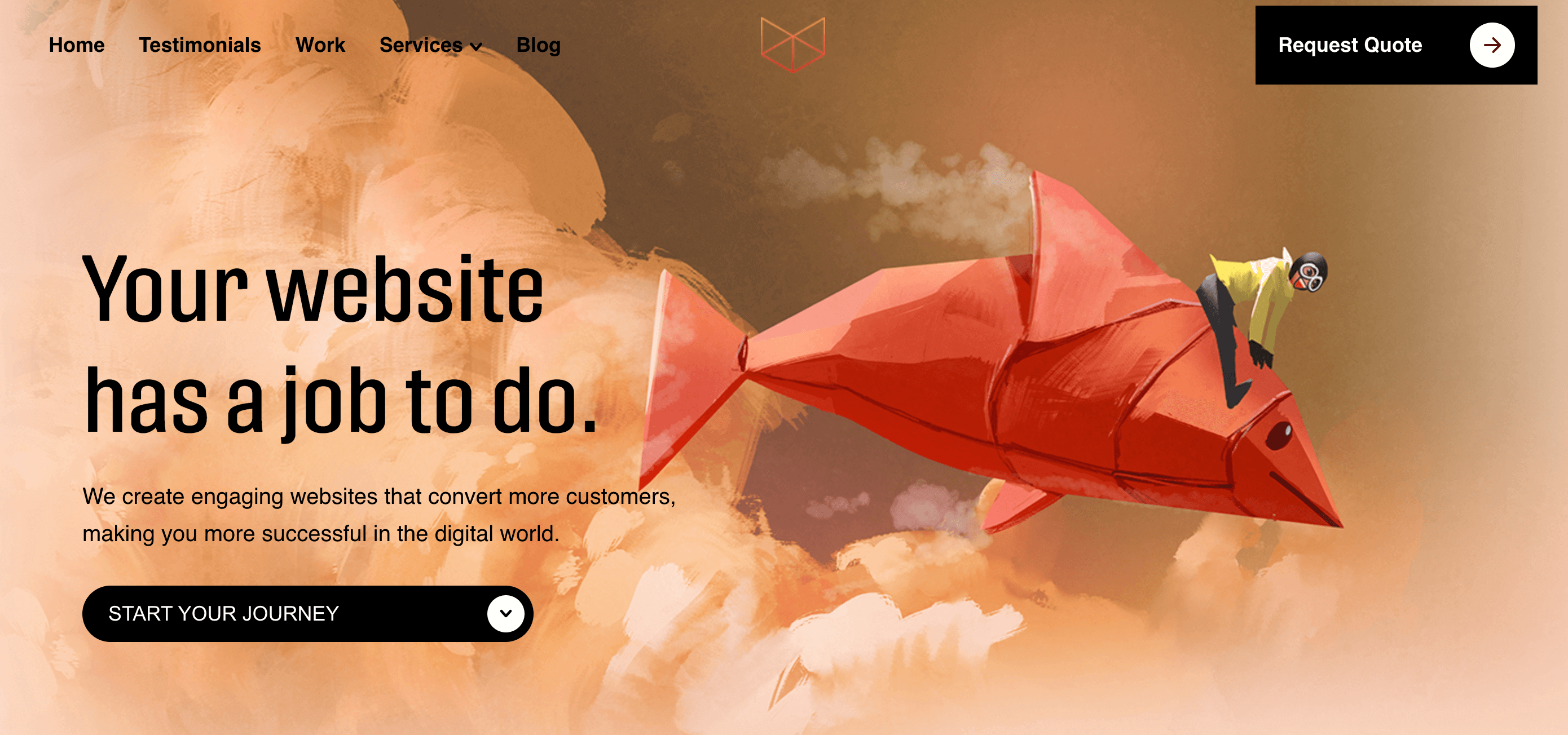 Studio Fox Design is one of the best eCommerce web design companies awarded as a 'Top Agency For Small Business.' They specialize in Shopify, WooCommerce, Magento, BigCommerce, Open Cart, Wix, and SquareSpace development and can integrate your store with a wide range of payment providers. Besides, they'll teach your team how to manage and control a website, so you can easily add new products or edit the content on your own. 
Applying a strategic mix of SEO, paid advertising, email marketing, and social media channels – Studio Fox Design makes the most of your online store development, ensuring sustainable business promotion. 
Want to succeed in a digital world? This US-leading eCommerce web development firm will help you create an outstanding website that sells!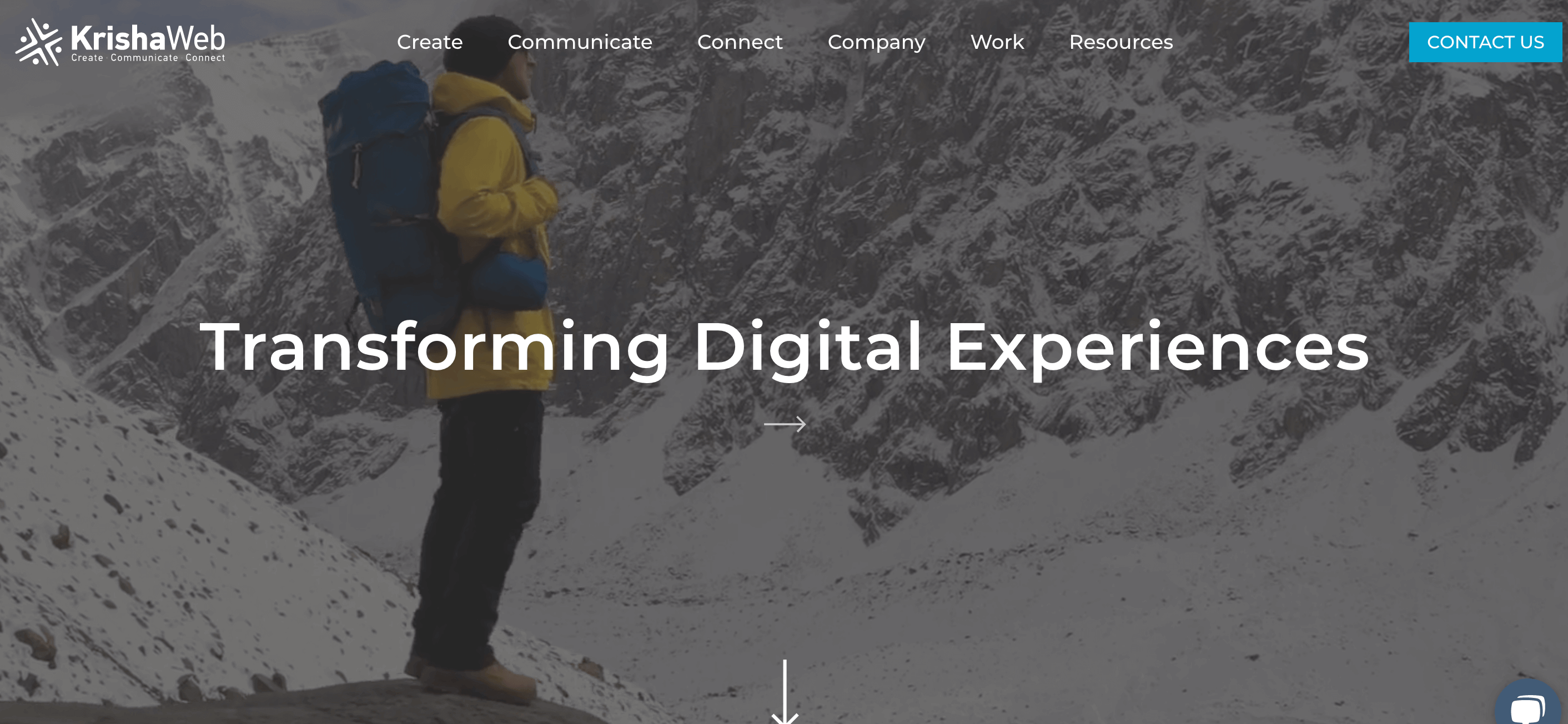 KrishaWeb is one of the top eCommerce website development companies in the USA that knows how to turn your online store into a money-making machine. The firm has been keeping the leading position in the industry since 2008. 
With a team of 100 professionals, KrishaWeb creates smooth and engaging shopping experiences by integrating easy payments, inventory, and order processing systems. Providing a full range of eCommerce website development services, including design, development, marketing, analytics, and more, KrishaWeb promises to deliver a custom, modern, and fully functional platform for your business. 
Reinforce your business with their premium services at a competitive price!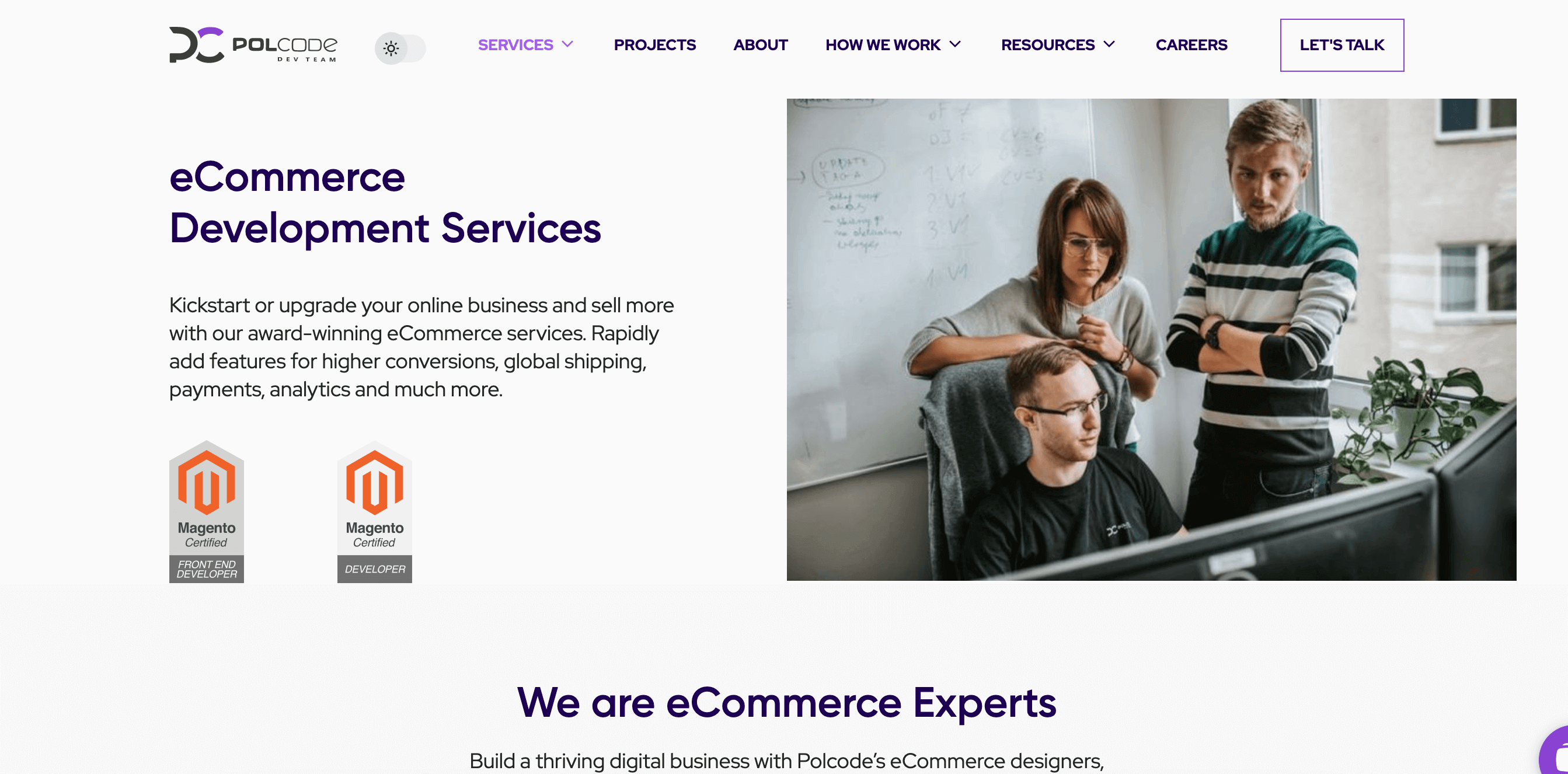 Need a brand-new online store or upgrade the existing one? With over 1400 successful projects behind and 100+ best-in-class eCommerce developers on board, Polcode is ready to move your business forward and increase conversions.
The company provides a broad range of top-rated eCommerce services: online store development and UI/UX design, global payment processing, omnichannel support, analytics, and reporting, as well as integrating customer engagement tools. All these solutions are aimed at helping you sell more.
What makes Polcode a universal tech partner is its comprehensive technology stack and 360-degree expertise in marketing, programming, and design areas that drive growth. The team is recognized with a 5-star rating on Clutch and a 100% job success rate on Upwork. Benefit from their award-winning eCommerce web development services, being supported by world-class designers, developers, and analysts.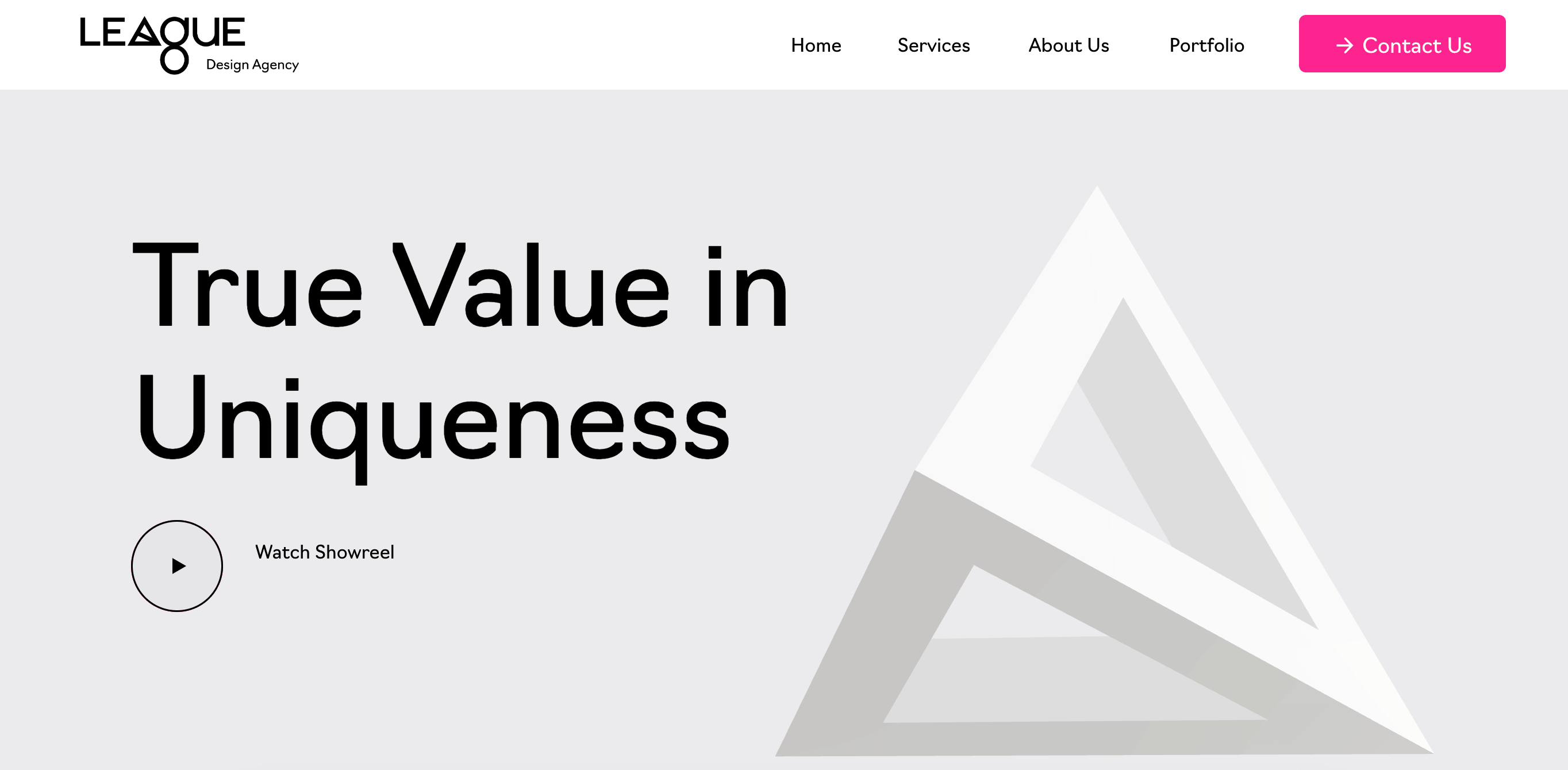 A Ukrainian agency, League, was founded in 2017 and implemented numerous brilliant projects by this time. They're known and appreciated for creating unique, aesthetic eCommerce websites with cutting-edge functionalities.
The ultimate goal of League Agency is to make you happy with the final product, ensuring it meets your expectations and the goals you've set at the beginning of the project. By conducting A/B testing and usability testing, the team implements only proven and effective solutions, and as a result, you get a website that's not only visually appealing but also fills your business gaps and optimizes internal processes. 
Moreover, when hiring League Design Agency, you benefit from a client-oriented approach, 24/7 support, and weekly updates so that you can witness how your ideas are coming to life.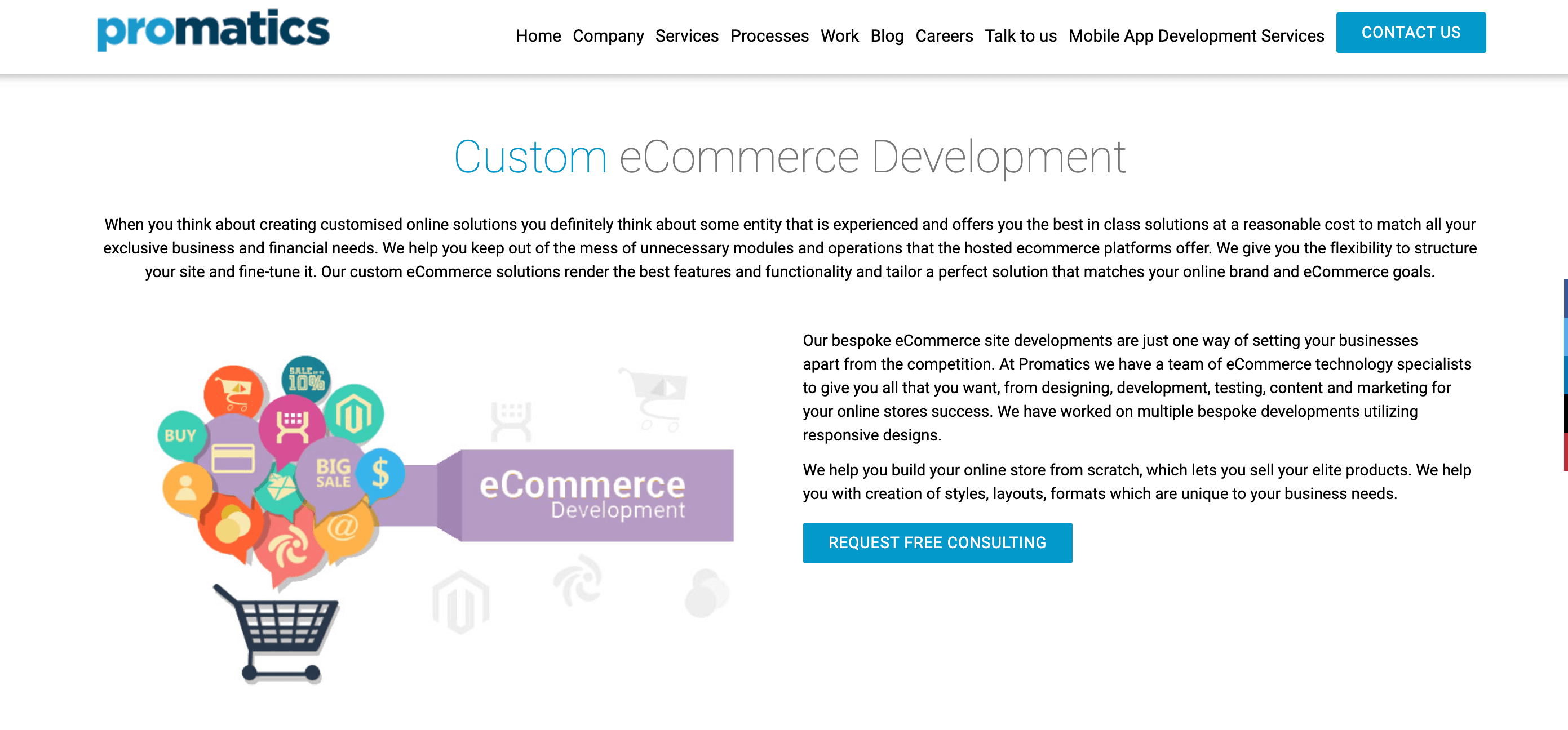 Promatics Technologies has provided full-cycle custom eCommerce web development since 2008. Headquartered in the USA, the company is known as a premier development partner with matured and optimized engagement and delivery models. Promatics has a long history of delivering game-changing web solutions for startups, entrepreneurs, SMEs, and Fortune 500 enterprises all over the globe. 
The company mainly focuses on custom online store development and can help you build a result-driven website from scratch. They can help you implement such features as unlimited product and category listings, site reporting and statistics, and content and inventory management. 
Besides developing an error-free website, Promatic's team also applies best practices to optimize it for search engines and enhances your overall branding.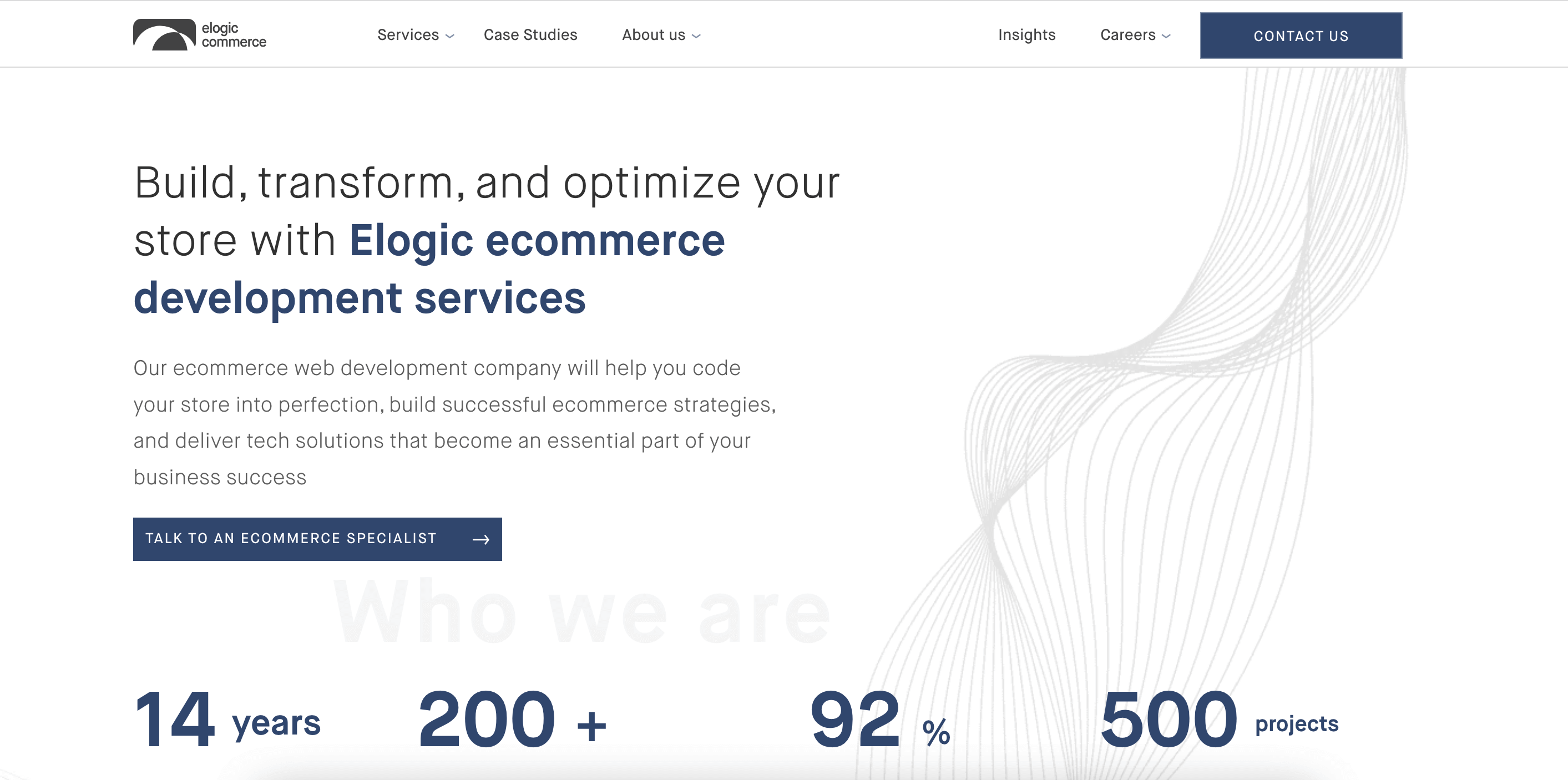 With a legacy of 14 years in the market, Elogic is a leading eCommerce agency dedicated to helping businesses build, transform, and optimize their online stores. With a team of 200+ specialists, the agency delivers exceptional tech solutions that seamlessly integrate into your business, driving your success.
From pre-development analysis and planning to prototyping, design development, store development, extensions and integrations, quality control, and project release, Elogic provides a comprehensive development process that ensures your store is perfectly coded.
Recognized for their excellence in the industry, Elogic has received numerous prestigious awards from Clutch, Goodfirms, ITFirms, and TopDevelopers. Elogic takes pride in its extensive portfolio, having successfully served over 200 global eCommerce businesses of various sizes and niches. Their client roster includes renowned brands such as Bvlgari, Hanes, Accenture, Tele2, Vodafone, Philips Healthcare, HP, Siemens, and many others.
Whether you require an eCommerce mobile app, marketplace, online store development, booking solution, bidding platform, social commerce development, or a custom solution, Elogic's 100% eCommerce focus ensures they have the expertise to meet your specific requirements.
Conclusion 
eCommerce web development is no longer an option but an essential component of online business success. A well-developed and optimized online store will help expand your web presence, increase sales, and give your customers a great shopping experience.
We believe our list of the top eCommerce development agencies will help you find a best-fit partner to achieve your business goals. 
If you want to add your company to this list, contact us by email with details. After a thorough review, we'll decide whether it's a valuable addition.