With the world of technology emphasizing privacy and data protection, ensuring that your organization's and customers' information is safe has become compulsory.
The quickest and most effective way to achieve this is to get in touch with the top cybersecurity company and trust them to protect your sensitive information. 
Here we present a list of the leaders in the cybersecurity domain. Each of these companies provides a complete defense mechanism based on your business profile, industry, and unique privacy issues.
Why Is It Essential To Work With Cybersecurity Professionals?
When you work with a cybersecurity consultant, you protect your company from severe internal damage and keep your customers' information safe and secure.
Here are some of the ways the best cybersecurity companies can help you:
Monitor all your systems and network and provide diverse security solutions.

Find out security vulnerabilities through internal audits and penetration testing.

Recommend data protection software and develop customized solutions using state-of-the-art technologies.

Regularly update internal infrastructure and keep your company compliant in terms of governmental requirements.

Train and educate your employees on contemporary cybersecurity trends.
The Best Cybersecurity Companies And Vendors For Maximum Safety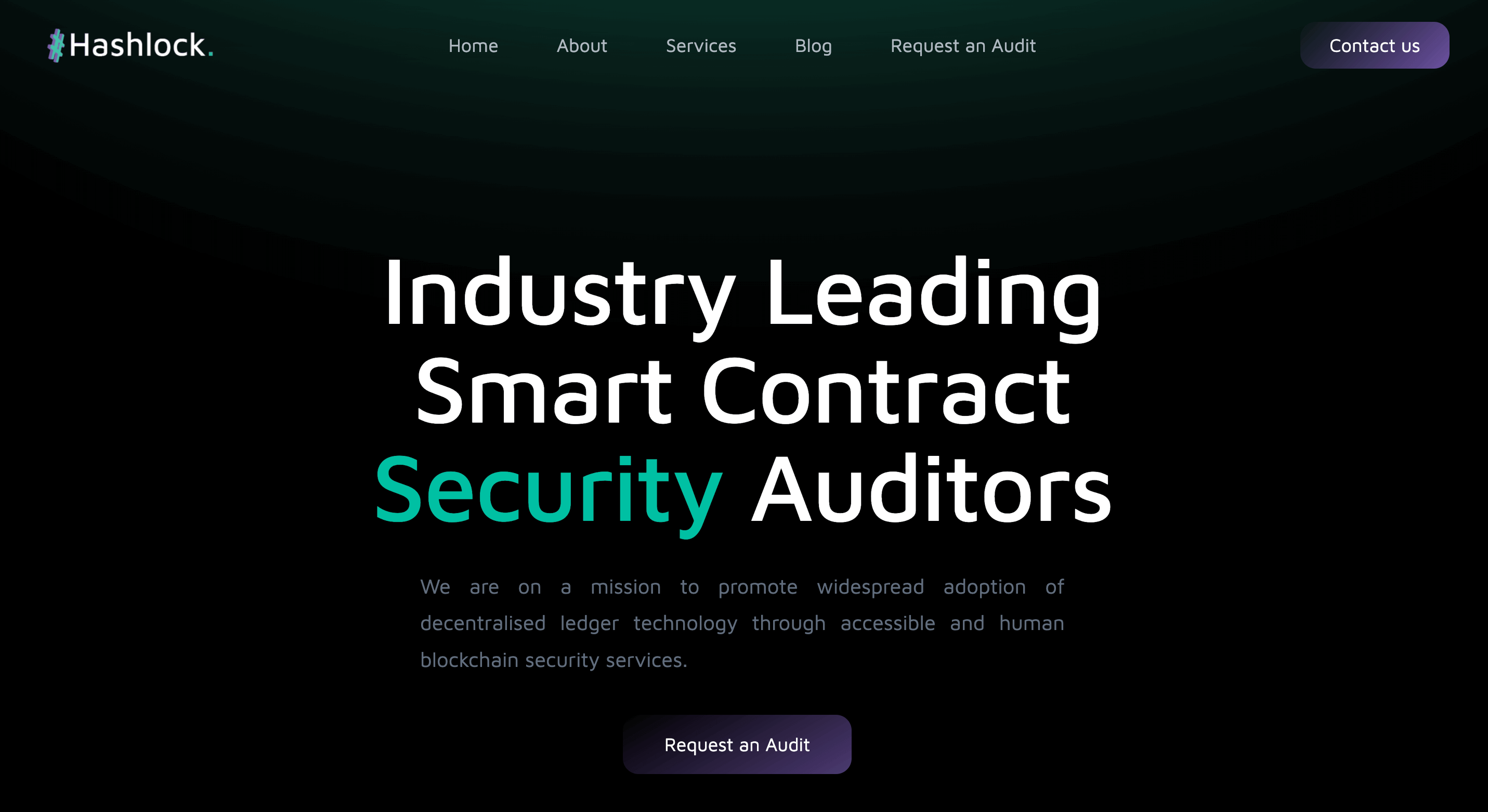 Hashlock is an industry-leading blockchain cyber security company based in Australia and serving clients globally. Their main services are smart contract security auditing, pentesting, on-chain monitoring, and security consulting. Hashlock also runs an initiative called trustedWeb3, which is the leading industry information hub for all things blockchain security.
Hashlock works with corporates, institutions, and blockchain native protocols to ensure that new web3 implementations are secure and that both owners and users are protected.
Reach out to the Hashlock team when building your next web3 project to ensure your protocol is secure.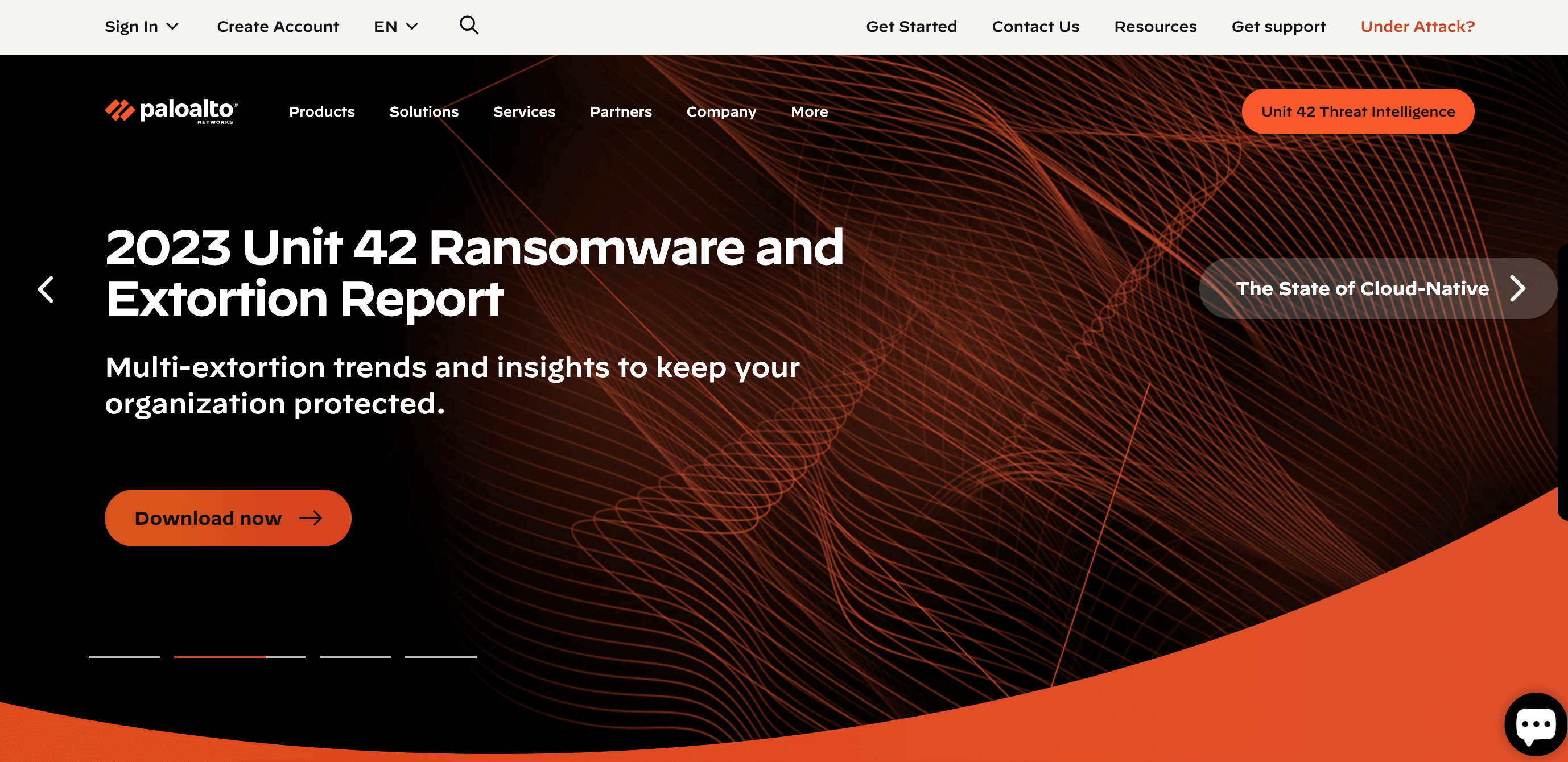 One of the most notable cybersecurity solutions providers, Palo Alto Networks, ensures complete business protection with no compromises on your end.
Whether you need personalized solutions for network security engineers, cloud architects, SOC managers, or heads of infrastructure, the company is armed with top-notch experts and full-proof next-generation technologies that can help you navigate and defeat all security threats and challenges. 
The experienced and expert team at Palo Alto understands your business and assists you with securing any cloud or storage systems, automating security operations, preventing threats in zero time, and making your remote or hybrid workforces safe. With Palo Alto by your side, you can avoid all internet-related threats and maintain high levels of privacy and security within your applications and the entire ecosystem.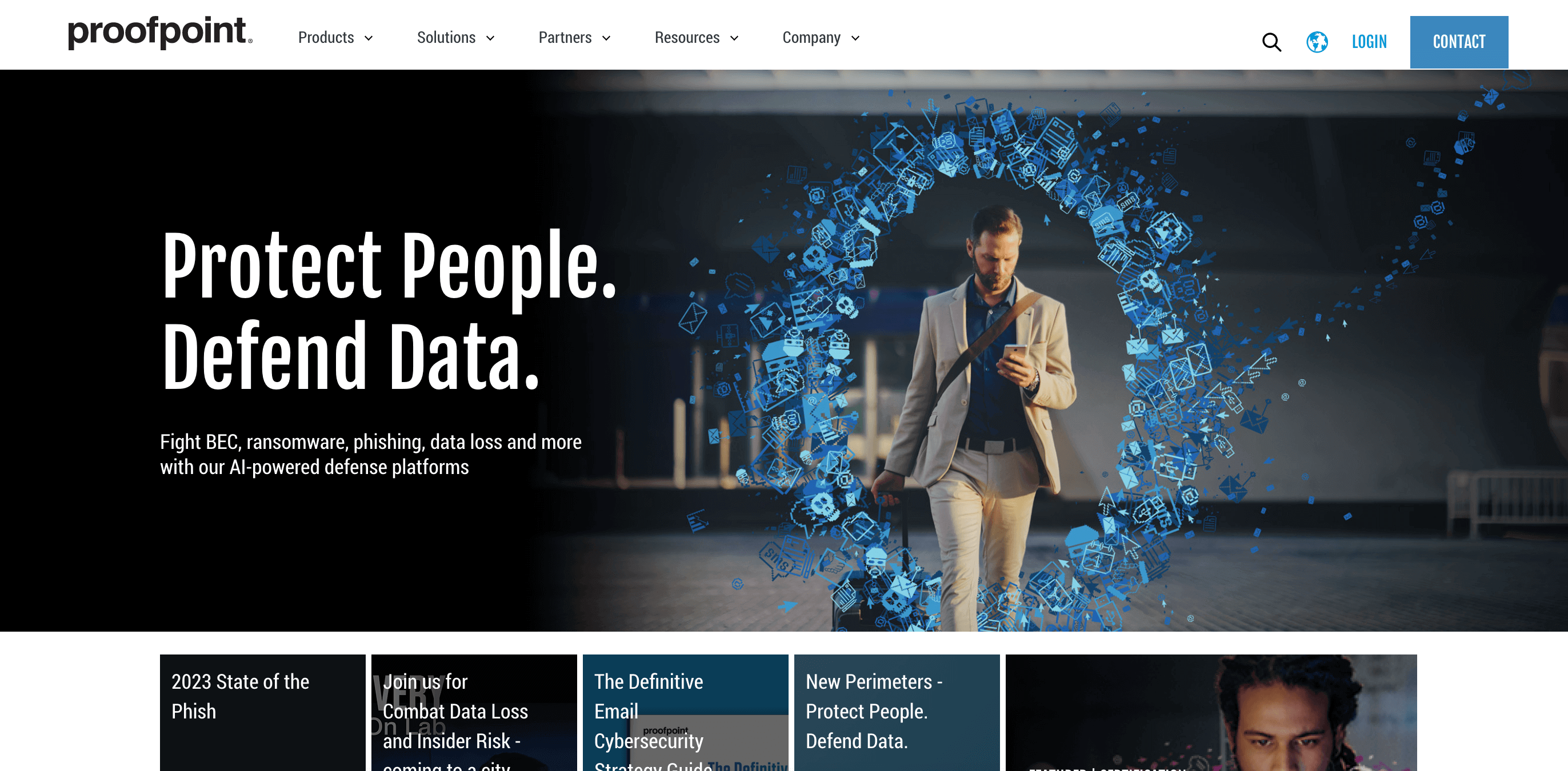 Building on the ideals of protecting people and defending data, Proofpoint is one of the leading cybersecurity service companies. Coming with solid experience in the data protection and security domain, the firm provides actionable solutions in terms of targeted attack protection, browser isolation, insider threat management, email DLP and encryption, security awareness, and many more. 
Monitoring more than 28 million cloud accounts and analyzing over 49 billion URLs per day, this is the ideal vendor if you want to uncover the potential of machine learning and receive reports on real-time analytics of your organization.
Work with Proofpoint to protect not only your data but also your brand against compliance risks and serious threats.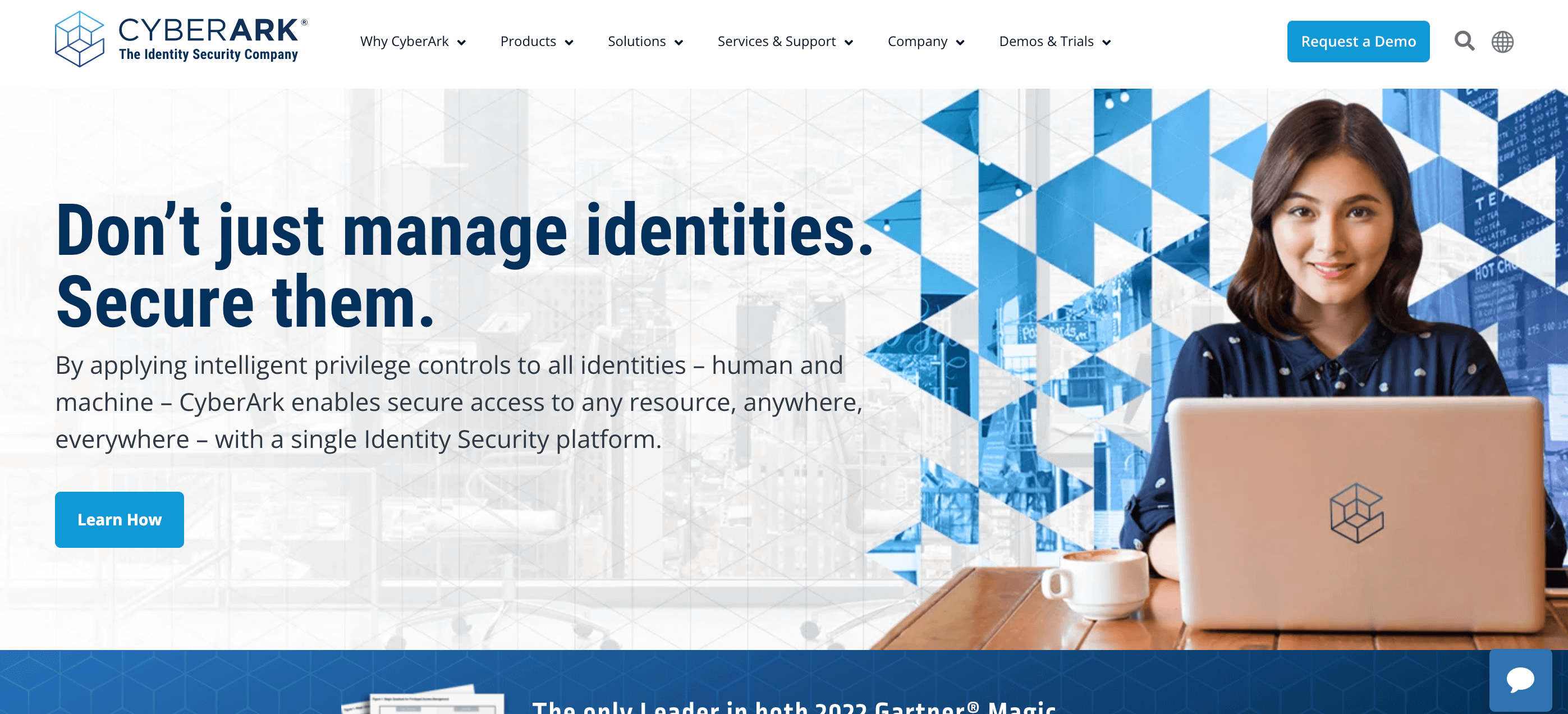 The ultimate identity security company, CyberArk, applies its years of experience and machine learning expertise to secure all your resources anywhere and everywhere.
Securing over a billion identities worldwide, the company has created successful collaborations with 200 Alliance partners and 300 integrations. Providing complete end-to-end solutions for threat detection and identity security, CyberArk is one of the best cybersecurity service providers delivering seamless data protection, intelligent privilege controls, and flexible identity automation with orchestration. 
The company follows a holistic approach and believes in enabling Zero Trust through its continuous threat detection. So, if identity security is your primary concern, CyberArk is your go-to partner!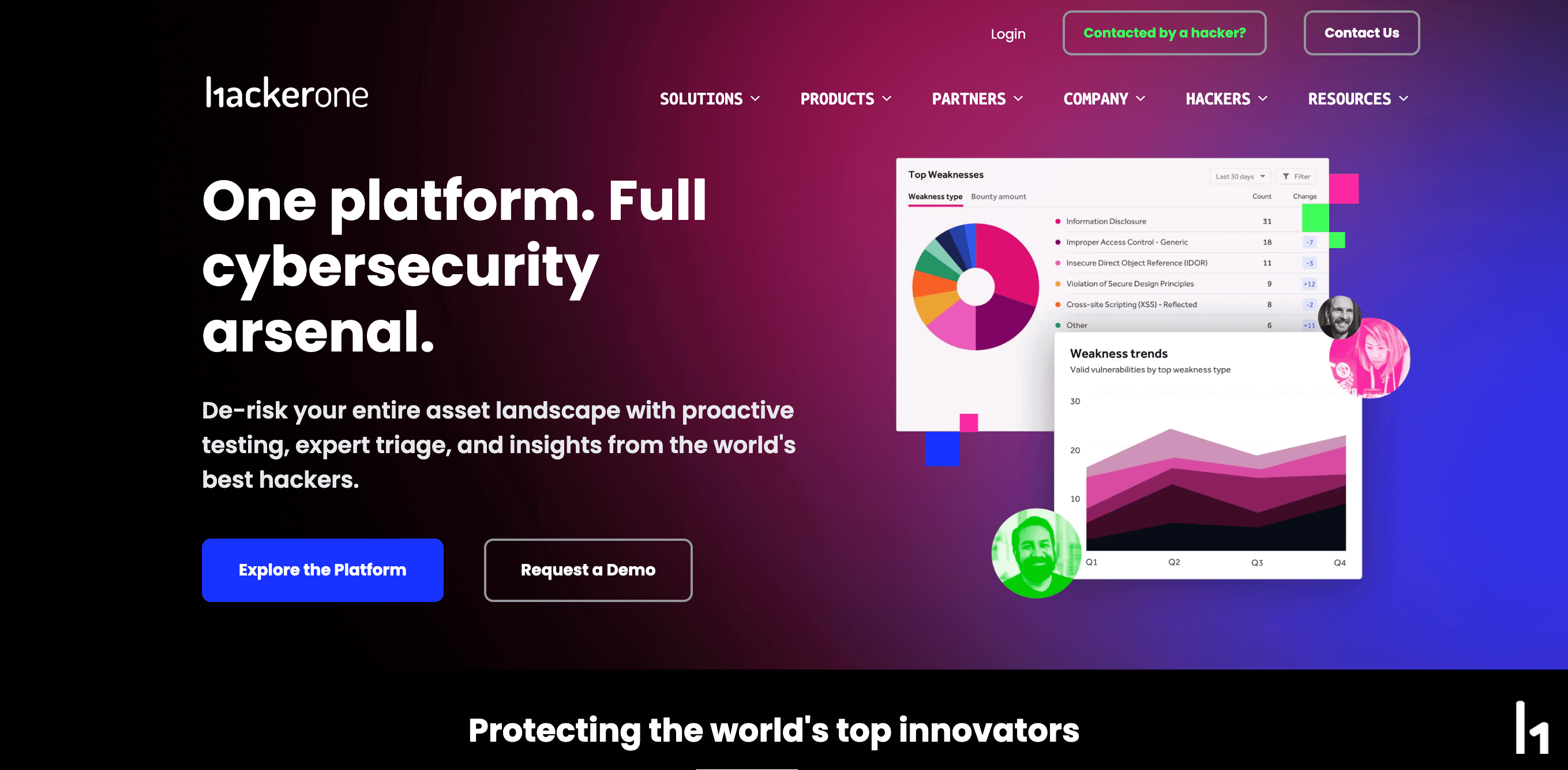 Trusted by millions of users and protecting the technological world giants, such as PayPal, Zoom, Nintendo, etc., Hacker One is the one-stop platform that can help you reduce your security threats and be more persistent with your risk management. One of the best cybersecurity firms in the US, Hacker One, provides superior hackers carrying out proactive testing to keep their customers safe from all online threats.
Having worked with the federal government and financial solutions, the company has become the most reliable platform with solutions related to attack resistance management, vulnerability management, cloud security, and application security.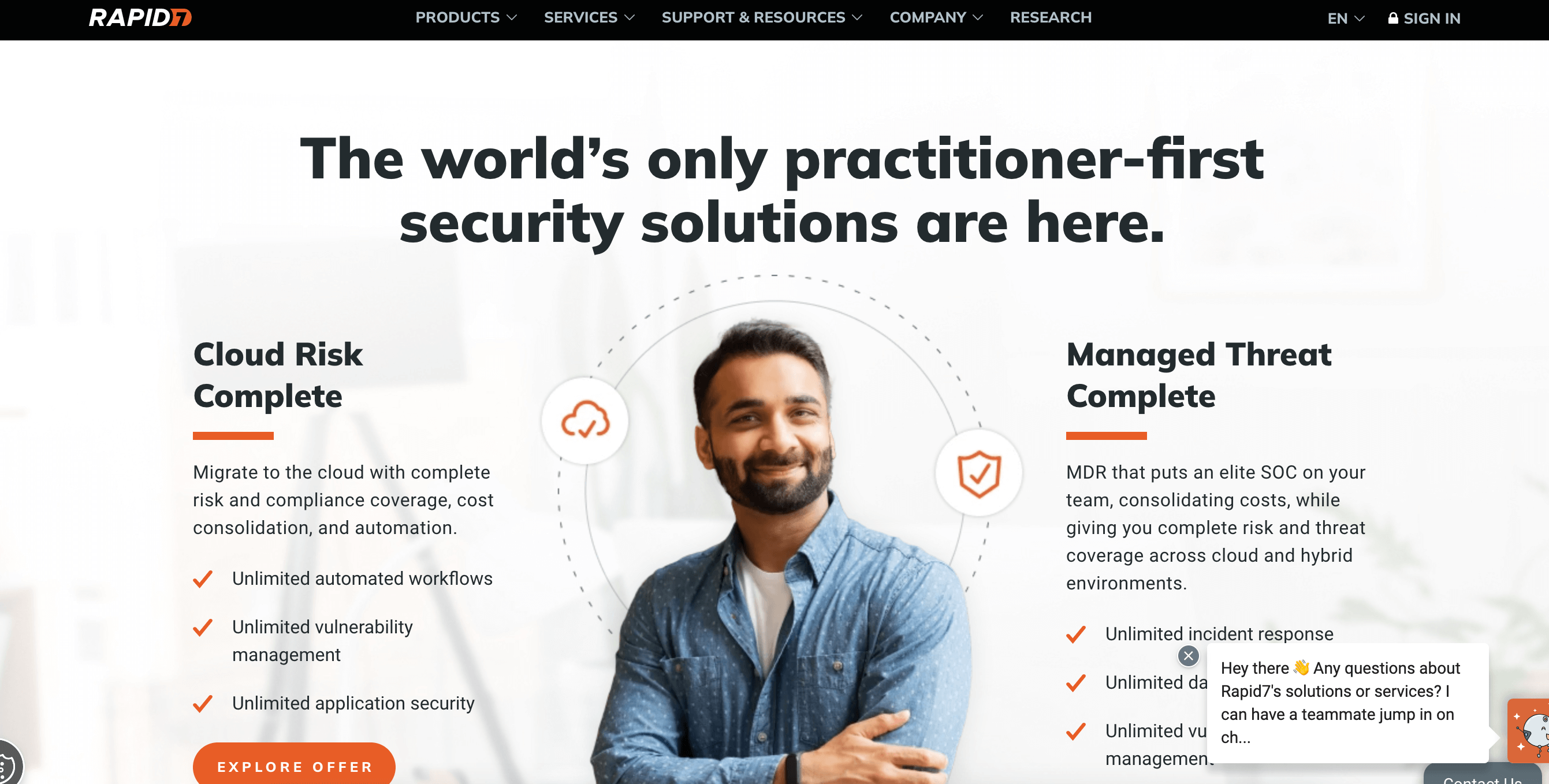 This list of the top cybersecurity companies would have remained incomplete without mentioning Rapid7 since the firm is the world's only provider of practitioner-first security solutions. From cloud risk identification to threat management, the company follows a practitioner-first approach that reduces risk, provides real-time analytics, and drives business success. 
The most interesting feature of the Rapid7 solutions lies in the 4Rs – Readiness, Responsiveness, Remediation, and Results. Currently, they provide solutions for the following cybersecurity areas – managed detection and response, XDR and SIEM, cloud security, vulnerability management, threat intelligence, and application security.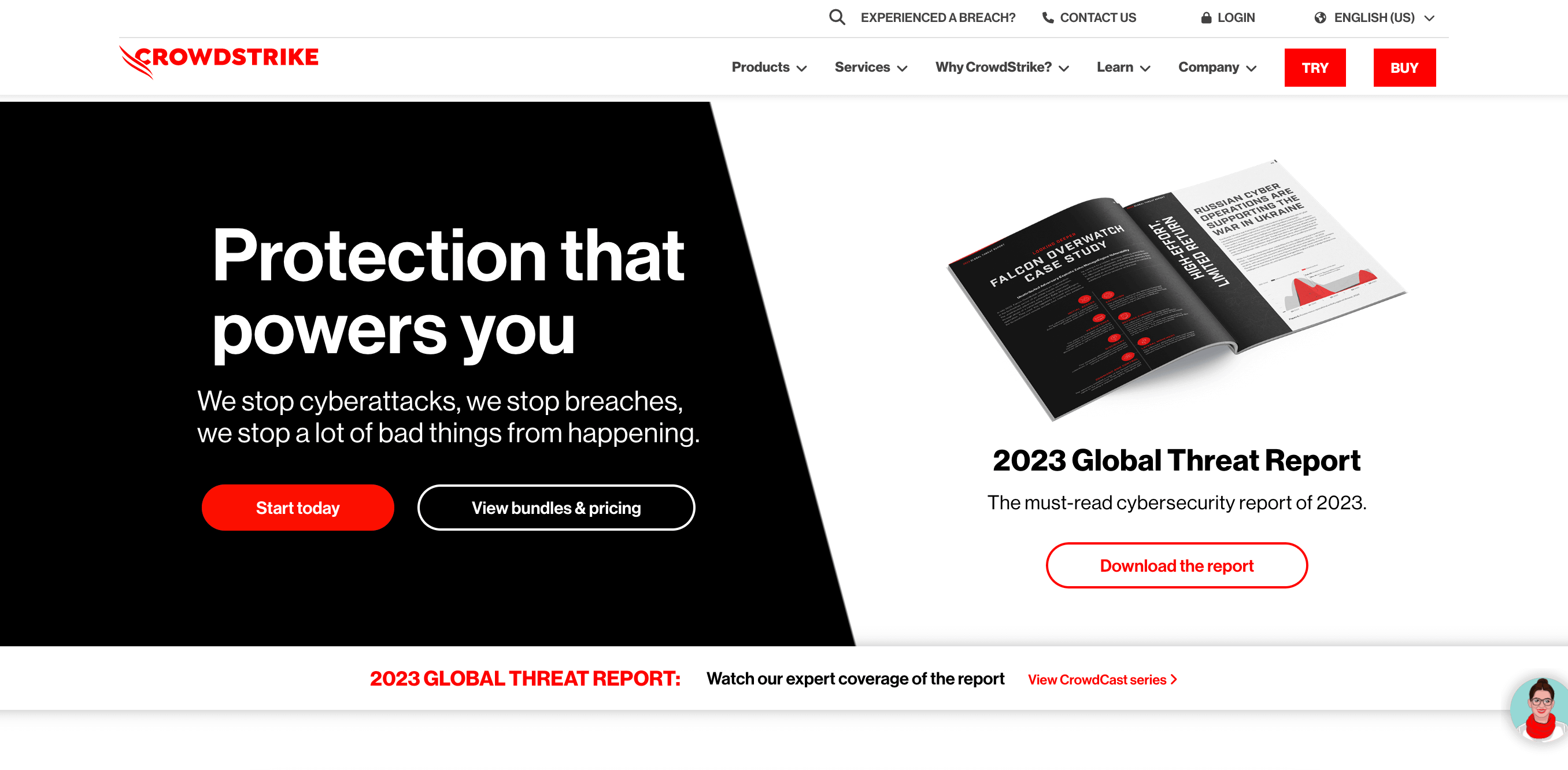 If you want to stop breaches and prevent cyberattacks, then collaborate with Crowdstrike to get maximum protection with zero hassle and at affordable costs. One of the best software security companies in the USA, Crowdstrike works with both small businesses and medium-sized enterprises, combining their expertise and experience with the power of technology. 
They provide top-tier solutions related to the following areas – endpoints and XDR, cloud security, threat intelligence, identity protection, security and IT operations, and observability. Offering a unified platform that gives you comprehensive security across various areas, Crowdstrike is a reliable partner to trust with your sensitive data protection.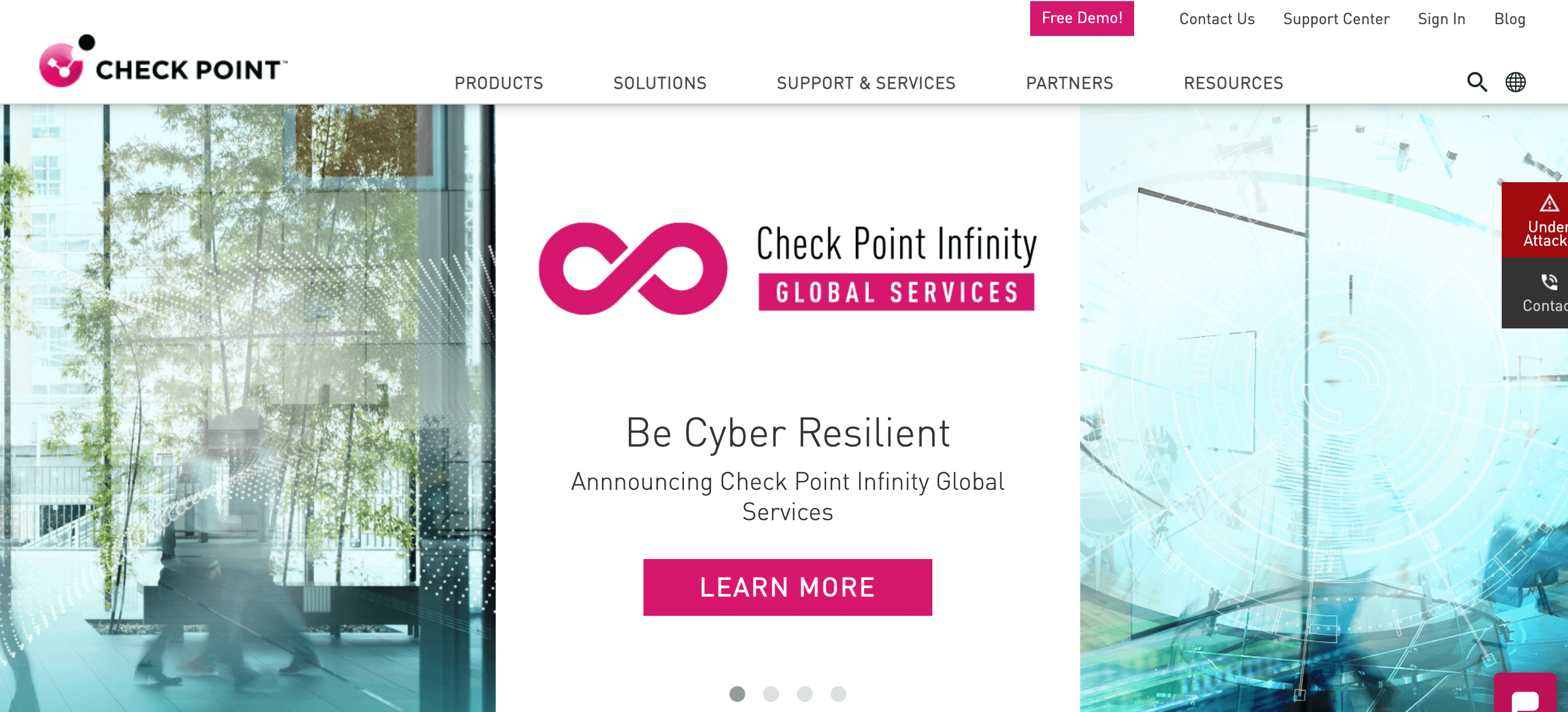 If you are looking for a reliable company to make all your systems and processes cyber-reliant, Check Point can be your ideal partner. Providing impeccable services to top corporations, the firm offers a diverse pool of network, cloud, and user data security solutions. 
As leaders in cybersecurity, they have been working with small to medium-sized businesses, large enterprises, and consumer-faced organizations. In addition, this prominent team has collaborated with clients belonging to the domains of Retail, Financial Services, Healthcare, Education, etc.
Providing customized and comprehensive solutions to various cyber-related issues, Check Point ensures that your data is totally safe and your business is under no threat.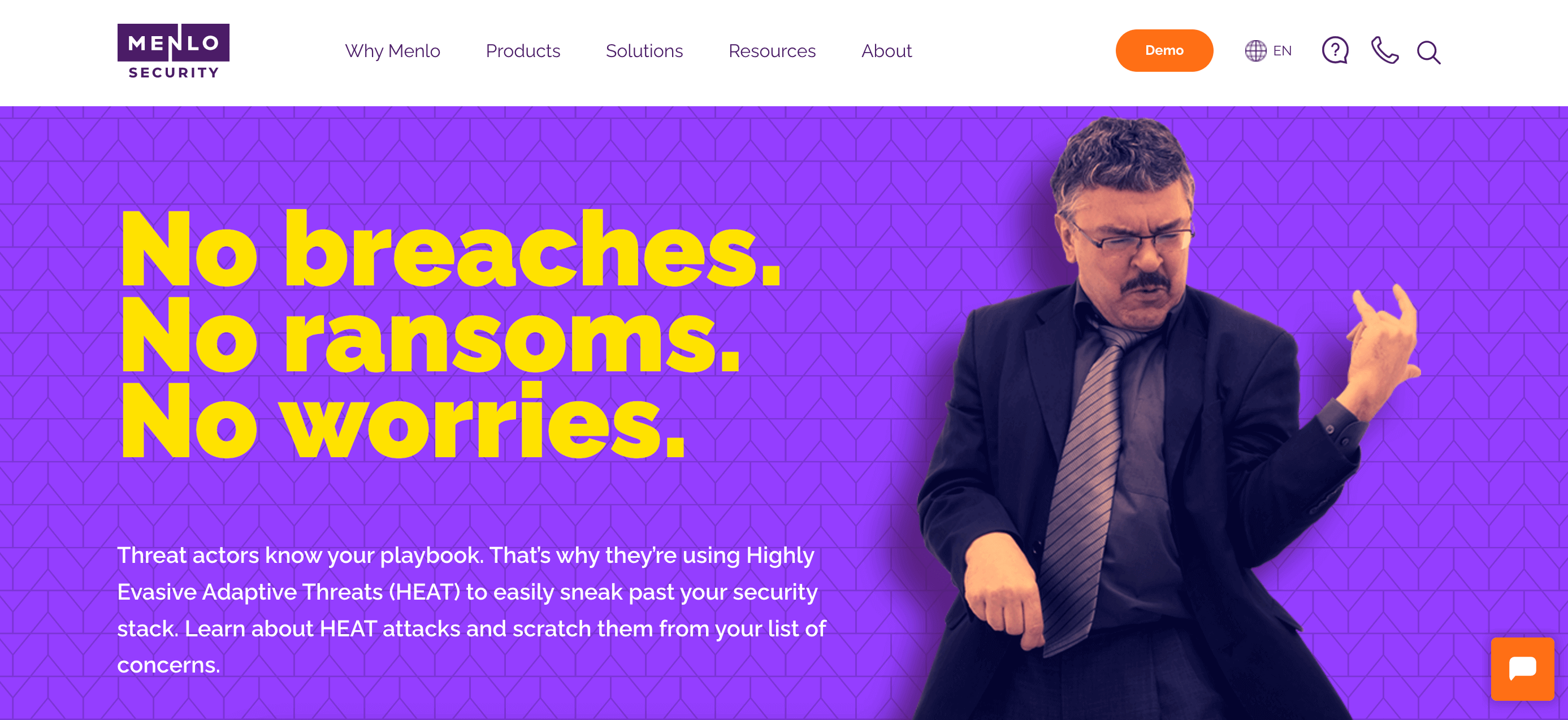 Founded to provide efficient solutions to the most complex cyber challenges, Menlo Security follows proven approaches to keep your business information and user data safe from online threats and suspicious activities.
As one of the most reliable cybersecurity vendors, Menlo Security provides solutions in the following areas – eradicating email phishing, credential theft, and malware, securing Google and Microsoft workspace, regulating access to SaaS applications, implementing SASE security, neutralizing suspicious document downloads and gaining more control over the loss of data. 
The main differentiator of Menlo Security is its application of the HEAT check assessment tool that lets businesses evaluate their vulnerability to HEAT attacks and prepare accordingly.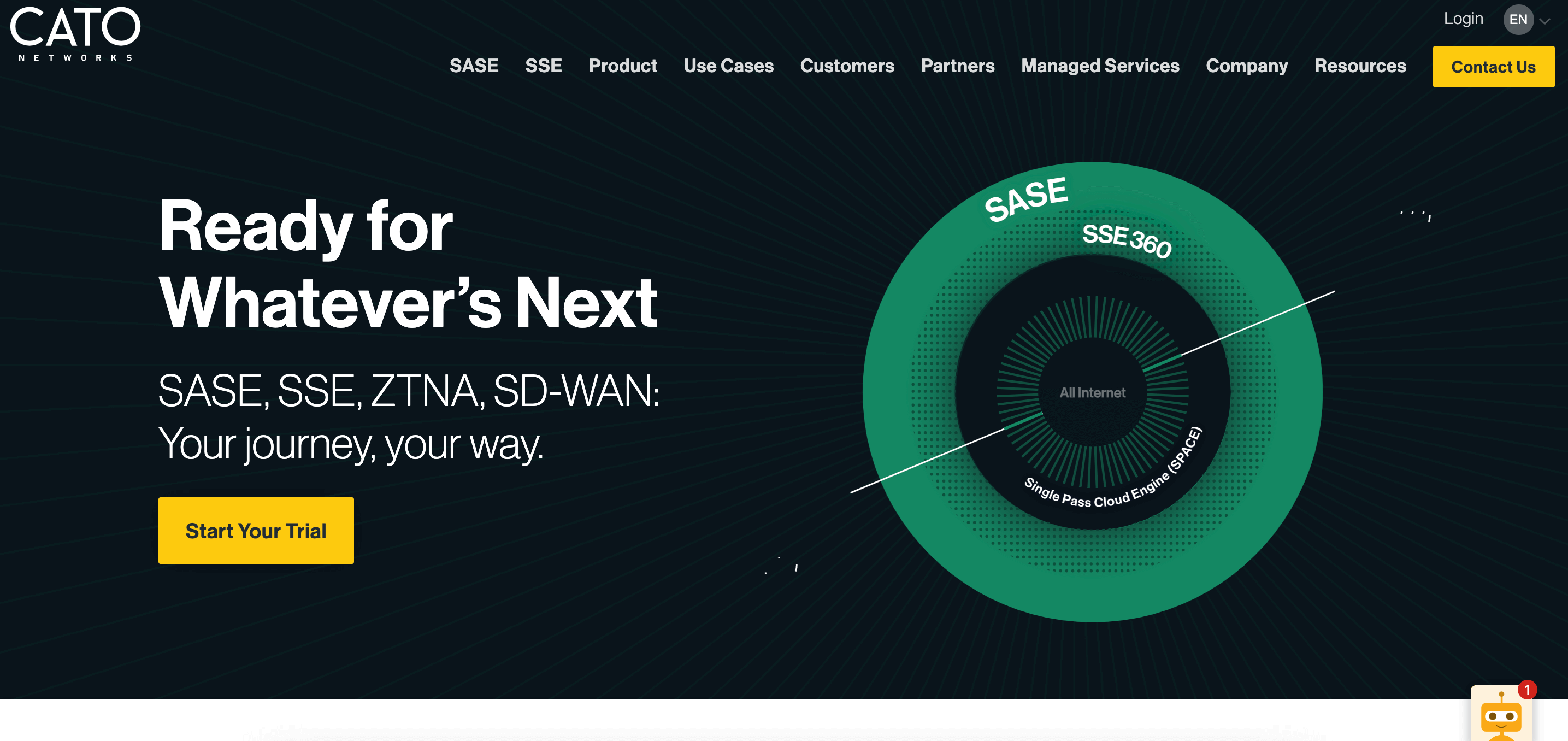 In today's digital age, companies should have a strong networking and security infrastructure in place for dealing with customers smoothly. Here is where Cato Networks come into the game. Recognized by Gartner and backed by over 1,500 satisfied customers, the company provides a unique approach to handling cyber threats based on reliability, automation, flexibility, and simplicity. 
Their most prominent network security solution is security to all your checkpoints – cloud-native, global locations, SD-WAN, and all users connecting from all kinds of applications. 
Datami is a team of highly qualified and experienced white hat hackers. They've been presented on the market for more than 7 years and currently have offices in Chernivtsi, Ukraine (head-office); Tallinn, Estonia; New York, USA.
Since 2015 they've been serving clients globally, having over 600 cases of collaboration with companies from different countries, such as the USA, Germany, Canada, Australia, UAE, Poland, Japan, China, Latvia, Estonia, Cayman Islands, Cyprus, etc.
The most common industries Datami works with are Banks, Cryptocurrency Exchanges, cCommerce, the U.S. Defense, Fintech, and Streaming & Media, to name a few. They provide full-cycle cybersecurity services from diagnosis and treatment to complex penetration tests (pentests), IT audits, and other types of cybersecurity support.
The typical tasks Datami's experts can handle include regular penetration tests or IT audits: networks, operating systems, services, software, Wi-Fi, databases, mobile applications (reverse engineering of Android, iOS apps), and web applications. Then they provide recommendations and consultations for eliminating the identified vulnerabilities in accordance with the results of penetration tests. Finally, the team installs protection on the resource 24/7 (CloudFlare + our PHP solution), so you have no cause for concern about external threats.
Datami is your ambulance in cases of hacking or DDOS attacks, providing the most innovative and effective cybersecurity solutions!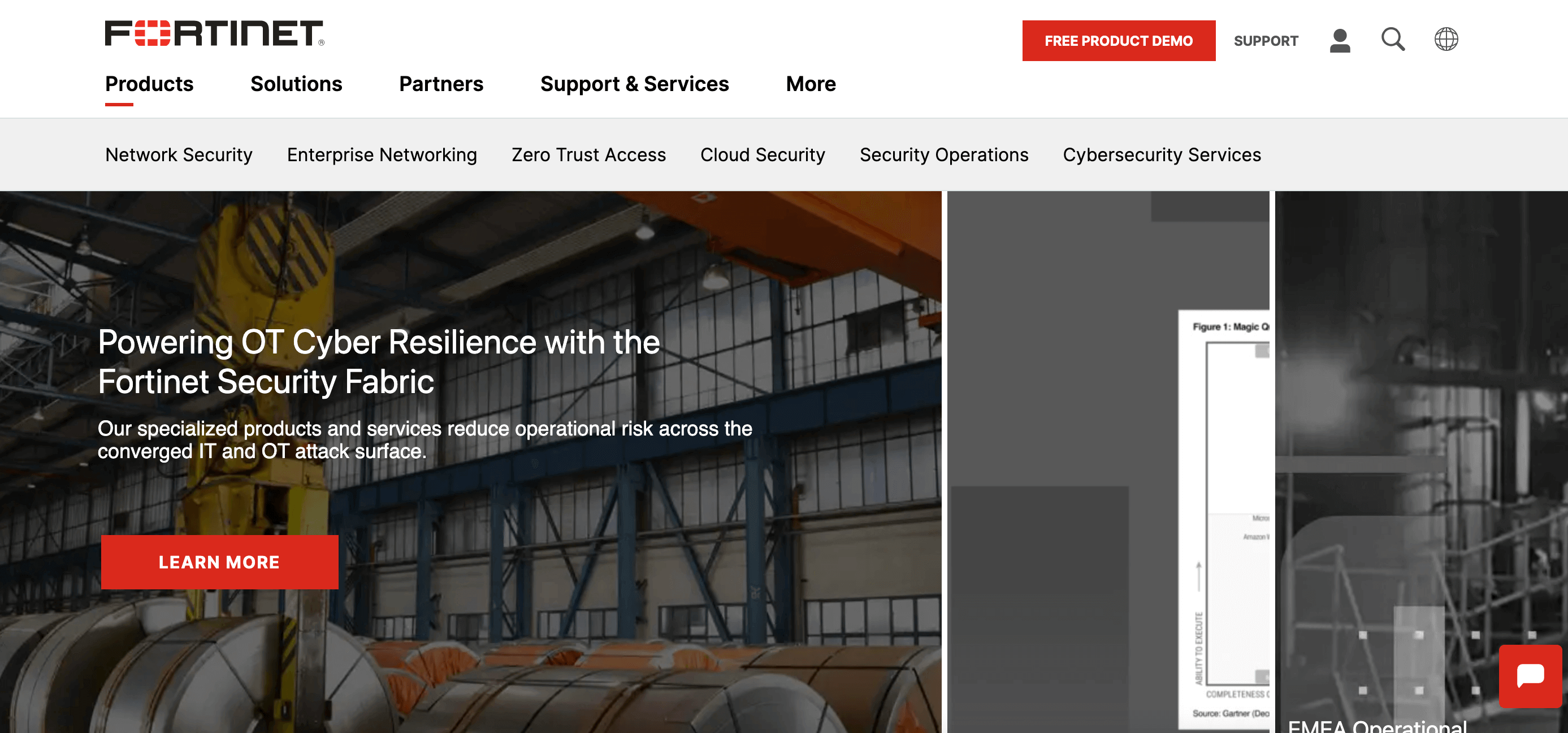 Fortinet is a US-based firm that focuses on building up a new approach to handle security threats and issues. Providing cutting-edge security products and enabling organizations to set a robust security framework, Fortinet rightfully deserves a place in this list of the top cybersecurity companies. Their diverse range of services includes threat intelligence, cloud security, user and device security, secure networking and operations, open ecosystem, and network operations. 
Fortinet has built a strong presence through fruitful collaborations with clients operating in the Communication, Pharmaceuticals, Technology, Financial Services, Retail, Healthcare, and Manufacturing sectors. Besides helping brands establish unshakable security protection, Fortinet also focuses on integrating solutions and automating self-healing networks.
Conclusion
From threat detection to risk management, an experienced cybersecurity company will help you create more secure products, services, and platforms. Now that you know the names of the best cybersecurity companies, it should be easier to prevent cyber threats and phishing attacks and create a robust defense strategy to keep your company safe. 
If you're a cybersecurity services provider and want to feature your company on this list, email us with details. After a quick evaluation, we'll define whether it's a valuable addition.